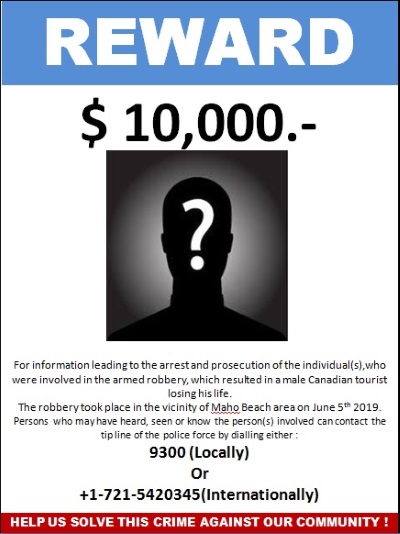 PHILIPSBURG:--- In connection with the ongoing armed robbery investigation resulting in the tragic death of a male Canadian tourist identified with initials S.V., the Unified Neighborhood Safety Board of Beacon Hill, Cupecoy, Maho, and Point Pirouette have offered a monetary reward for information leading to the arrest and prosecution of the person(s) involved.
The armed robbery took place in the Maho area on Wednesday, June 5th at approximately 11:00 p.m., the victim and his daughter were attacked by an unknown person who during a brief struggle was shot. The suspect(s) then jumped into a small vehicle and fled the scene. Police and paramedics were called. The victim was treated on the scene, then taken to hospital for medical treatment and was thereafter flown abroad for further medical treatment were he later succumbed to his injuries.
The Unified Neighborhood Safety Board of Beacon Hill, Cupecoy, Maho and Point Pirouette would like to offer a $10.000,00 reward.
If you have any information related to this robbery, please call the KPSM TIP line at 9300 (locally) or + 1721 54 20345 (internationally) and you will be guided on how you can give your information.
The Sint Maarten Police Force would also like to take this opportunity to thank those individuals who have provided the detectives with information thus far in the investigation. With the help of these individuals, the police department was able to gather the information that gave us headway in this ongoing investigation.
KPSM Press Release.