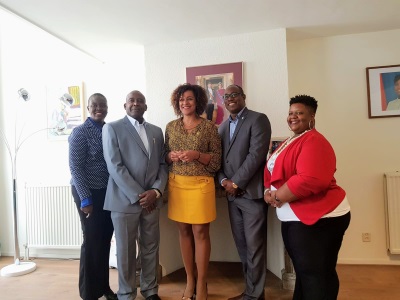 PHILIPSBURG:--- During the Global Economic Summit 2019 (GES 2019), co-hosted by the Governments of the Netherlands and the United States, Sint Maarten was represented by Cristal Legrand and Ife Badejo as local entrepreneurs with a drive and passion for innovation.

Minister Plenipotentiary Jorien Wuite also participated in representation of Prime Minister Leona Romeo Marlin. The two-day GES 2019 showcased the depth and breadth of innovations in the critical areas of energy, connectivity, agri/food and water health with the aim to improve lives around the world.

During the ONL side event with 40 ambassadors and more than 100 entrepreneurs and business reps on June 4th, the delegation comprised of the Minister and Deputy Minister Plenipotentiary Michael Somersall, President of the Board of the Sint Maarten Chamber of Commerce and Industry, Benjamin Ortega, and Senior Policy Advisor, Carol Voges whom all met with institutions and companies interested in doing business with Sint Maarten spanning the areas of aviation, energy storage, network consulting, education services.

The Chamber of Commerce and Industry delegation, including Board members Louis Bute and Ife Badejo and Cabinet member Carol Voges, further met with representatives from Dutch entrepreneurial institutions (i.e. Chamber of Commerce, ONL, Invest.NL) to discuss partnerships with the intention to explore business opportunities, capacity building and knowledge transfer to the island.

Follow-up meetings are scheduled to be arranged with local counterparts and partners on Sint Maarten in the upcoming months.

During a courtesy visit to the Cabinet, Legrand, the winner of the Road to GES 2019 hailing from Sint Maarten, an avid and dedicated entrepreneur with Sint Maarten at heart, discussed her future plans for her business Le Grand Voyages.

Apart from being a successful entrepreneur, Legrand is a certified hospitality trainer and has rendered her services to other small and medium sized businesses on Sint Maarten through training after which these businesses received a certification in Hospitality.

The road ahead for Legrand and her business is a most exciting yet challenging one. The Minister Plenipotentiary was happy to be informed and updated about her plans and assured her that she will be most successful as her charisma and dedication to reach her goal are ever present.

The Cabinet proposed to assist where necessary and proposed to act as intermediary for both the Chamber and Legrand in maintaining contacts and in an advisory role. The importance of including the Cabinet in platform discussions are important as the contact with international partners can flow even more efficiently through proper utilization and the creation of a strong synergy with the local business platforms on Sint Maarten.

Minister Wuite, during her participation as representative for Sint Maarten at the GES 'Future Now' noted that there is a definite take away from this experience as the market to do business with Sint Maarten is open.

Various opportunities were explored, new innovative businesses and developments were presented and Minister Wuite believes that the global challenges for these sectors are real and of critical importance.

Different breakout sessions focused on priorities for Food & Agriculture and investment and funding opportunities for startups and scale up businesses. "The special break out session 'Resilient islands' was well attended, and Legrand did an excellent job to highlight her business pitch".

The various platforms and mediums created by entrepreneurs play a pivotal role in the enhancement and sustainability of every economy, including Sint Maartens economy. Minister Wuite believes that economic opportunities will receive priority in the coming year at the Cabinet in the Netherlands and she thanked both Legrand and the Chamber of Commerce and Industry for teaming up with the Cabinet in representing the island at GES 2019 and in so doing showcasing that Sint Maarten is indeed open for business.