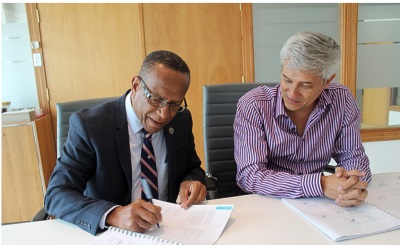 SMCP side with Dutch MP van Raak
PHILIPSBURG:--- St. Maarten Christian Party (SMCP) reiterated its stance to bring down the salary of Members of Parliament (MPs). The coalition party's initial reduction proposal was 15 percent; now it is at 10 percent because SMCP believes the goal of aiding the country's financial state would be achieved with that level of cut for both the salaries of MPs and ministers. The party's MP Claude Peterson and Minister Wycliffe Smith have already taken voluntary pay cuts amounting to 10 percent each. However, the reaction from SMCP MP Peterson again is a cry to say he is listening to the Dutch MP van Raak. The Party from van Raak SP has lost a huge amount of seats in the First Chamber election and has become irrelevant.
Accusation Corruption UD leader Heyliger
Also, MP Peterson is playing both sides of the fence one minute he suits the Dutch once they start screaming and putting pressure. The next minute he is together with the local Government.
Good sources now indicate that MP Peterson behind the scenes is talking that he is not part of the "Corruption" culture. It basically means he is not giving any investigation a fair chance innocent until proven guilty. He is the leading MP that literally threw suspended MP Heyliger under de bus.
Let us be honest MP Peterson is not going to publicly say anything about the "Ferrier land issue" owing millions, he talks a lot about the pandora box but can't open it. He is also the one who allegedly leaked information about major land ownership in Simpsonbay-Lagoon by Mr. Al Wathey.
Budget 2019 Responsibility Minister Finance - Government
The preparation of the budget is a direct responsibility of the Minister of Finance, it was delivered late to Parliament with major amendments. Maybe if more time was really spend on budget it would be approved on time instead of focusing on his "pet" projects such as multimillion USD deal for new tax system and Airport. The Minister of Finance is personally too much involved in Airport deal they must remember that the code of the Good Governance forbids this interference. Don't go and blame parliament the budget must be finalized on time by the sitting government. If an instruction comes from the Dutch Council of Ministers the Government is to be blamed and the Parliament should have already decided on the motion of "non-confidence "on the responsible Ministers. Prime Minister Rhuggenaath from Curacao sided with the Dutch and is now thrown in oblivion as instruction is coming from the Dutch Council of Ministers. Let this be a warning.
The main reason why the sitting government of SXM cannot get traction is that they are not in sync with SXM Parliament. Simply said the Government of SXM is serving 2 masters. This is a recipe for disaster.