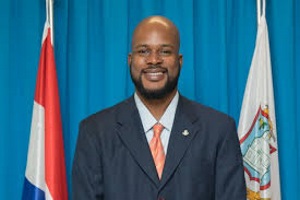 Giterson prohibited from driving for six months and must pay fines.
PHILIPSBURG:--- In accordance with the Public Prosecution Office, the Court of First Instance ruled that Minister Miklos Giterson must pay fines for violating Article 5 and 6 of the Road Traffic Regulation. Article 5 concerns the offense of dangerous driving and demands a fine of NAf. 300. Article 6 concerns the offense Of driving under the influence and demands a fine of NAf. 1,500 and a conditional 6 months OBM (driving prohibition).
---------------------------------------------------------------------
Conform de eis van het Openbaar Ministerie heft het Gerecht in Eerste Aanleg vandaag Minister
Miklos Giterson veroordeeld tot het betalen van boetes wegens het overtreden van art. 5 en 6 van de Wegen Verkeers Wet. Artikel 5 betreft het veroorzaken van gevaar op de weg en is bestraft met een geldboete van Naf 300. Artikel 6 betreft het misdrijf rijden onder invloed van alcohol en is bestraft met een boete van Naf 1500 en een voorwaardelijke ontzegging van de rijbevoegdheid.
Prosecutor's Office Press Release.