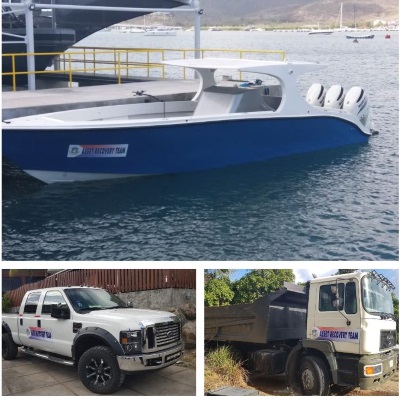 PHILIPSBURG/MARIGOT:--- The Asset Recovery Team Sint Maarten in collaboration with the French Gendarmerie seized a total 7 vehicles, 2 boats and 1 scooter during a search at a home in Grand Case, Saint Martin on Tuesday, June 4, 2019.
This raid was carried out in the interest of the EURO investigation in which R.A.G. (39) is a suspect. R.A.G. is suspected of money laundering and tax evasion, among other things. R.A.G. was not arrested. A stolen vehicle was also found during the search.
The Asset Recovery Team Sint Maarten is a collaborative effort between the Sint Maarten Police Force (KPSM), the Sint Maarten Tax Administration, Customs, the Dutch Caribbean Coast Guard and the Public Prosecutor's Office Sint Maarten. The Asset Recovery Team was set up on the principle that crime should not pay. Proceeds generated by the Asset Recovery Team are beneficial contributions to country Sint Maarten.
--------------------------------------------------------------------------------------------------------------------------
Afpakteam Sint Maarten heeft op dinsdag 4 juni 2019 in samenwerking met de Franse Gendarmerie tijdens een actie in totaal 7 voertuigen, 2 boten en 1 scooter in beslag genomen bij een woning in Grand Case, Saint Martin.
Ook is de woning aldaar doorzocht. Het betreft het onderzoek "EURO" waarbij een persoon R.A.G. (39) verdachte is. R.A.G. wordt onder andere verdacht van witwassen en belastingontduiking. R.A.G is niet aangehouden. Tijdens de doorzoeking is tevens een gestolen voertuig aangetroffen.
Het Afpakteam Sint Maarten is een samenwerking van het Korps Politie Sint Maarten,
de Belastingdienst Sint Maarten, Douane, Kustwacht Caribisch Gebied, en het Openbaar
Ministerie Sint Maarten. Het Afpakteam Sint Maarten is opgericht vanuit de gedachte dat misdaad niet mag lonen. De opbrengsten van het Afpakteam komen ten goede aan het land Sint Maarten.
Prosecutor's Office Press Release.