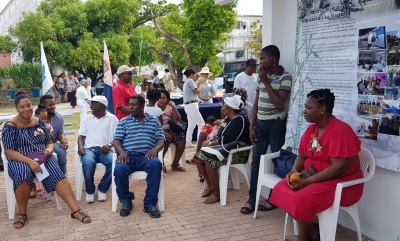 PHILIPSBURG:--- The St. Maarten Tzu Chi foundation paid homage to mothers, highlighted the work of the foundation worldwide and celebrated the birth of Buddha at its annual three-in-one Mother's Day, Buddha Day and Tzu Chi Anniversary event held recently at the foundation's office on L.B. Scott Road.

During the event, Tzu Chi also took the opportunity to donate packages which included "Love Rice" donated by Tzu Chi's headquarters in Taiwan; cereal and macaroni to 175 families.

As is customary, the feet of mothers were washed ceremoniously during the during the event. Tzu Chi's multilingual volunteers also ensured that information was presented in three languages - English, Spanish and French/Patios – so that all attendees understood what was said.

A total of 42 volunteers assisted in the event, which was attended by a total of 217 persons.

A "bamboo bank" drive (collection drive) was also held during the event where attendees collectively and lovingly donated US $400 to help the foundation to continue its work in the community.

At the end of the event one of the young recipients said he respected the foundation for holding the event for mothers and for the token of appreciation received. He urged the foundation to continue its good work in the community noting "You are making a difference in the world and I will always do my best to help everyone because that is what Tzu Chi does for persons around the world. Keep up the good work."

Teacher Veronica, another attendee, said this was her first time attending the three-in-one event. "It was good. I did know that the children used to wash the feet of parents. I think this is a good idea and I enjoyed the event," she said.

Tzu Chi St. Maarten Commissioner Sandra Cheung thanked everyone for attending the event. She also thanked volunteers for taking time out to assist and recipients and Bamboo Bank donors for being gracious.