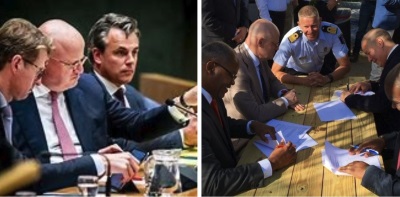 If Minister Cornelius Deweever Concealed Information he should also resign or be fired by Parliament
State Secretary Mark Harbers of Justice and Security (VVD) has resigned during the debate in the second chamber on the political fuss that has arisen about crimes perpetrated by asylum seekers. ' Super bureaucrat ' Mark Harbers seemed to be the " cat with the nine lives". In his more than a year and a half as secretary of State for asylum and migration, he was more likely to escalate crises, but at the last moment he started "dancing". But now, while there is no migration crisis, it is due to a seemingly small but a very serious fraudulent issue. This issue is about ' concealing ' figures on crime among asylum seekers. More action not only questions need to be asked on the Justice System as a whole even on St.Maarten. It's a fact now again that concealing vital information has become a norm for the Dutch and St.Maarten Justice Ministry.
The way in which Harbers announced his resignation, is first time shown in The Hague: he announced his mistake at the beginning of the afternoon at a press conference and asked the second chamber to debate this afternoon on the issue. "I am assuming that this will be my last debate in this position," he announced.
That did indeed happen at the end of the debate, which lasted almost two hours. It remained unclear why, despite the warnings of Justice Officials, the figures were not adjusted.
For the largest government party VVD the stepping down of the Harbers is again a painful issue. For several reasons. He Left two days before the European elections. While the Liberals prefer to attack the Forum for Democracy, including the migration viewpoint, it is now about their own government. In addition, he is the seventh VVD'er to resign in the three cabinets-Rutte since 2010. And then asylum is also a sensitive subject, which the Members of this House demanded transparency.
Part Source: NRC May 2019