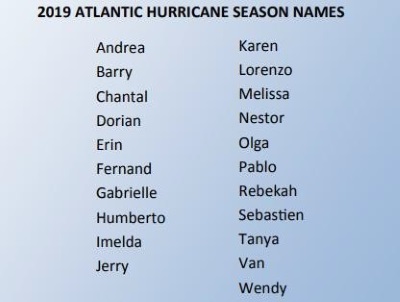 PHILIPSBURG:--- As we begin the 2019 Atlantic Hurricane Season, there is no doubt that we are reminded of our dreadful 2017 'Irma Experience'. However, one of the key lessons we should have learned is being adequately prepared is key. The geographical location of our islands make us vulnerable to these forms of natural disasters consequently preparing our family and property and being well informed is fundamental.
The 2018 season, produced fifteen (15) named storms, eight (8) hurricanes; two (2) of which were major (Cat 3 or higher). 2018 was the fourth consecutive year in which activity began before June 1; the first storm formed on May 25, 2018. This year, the first storm formed on May 20 (Andrea). The 2018 season was also the first season since 2008 when there were four (4) active systems in the Atlantic Basin at the same time (Florence, Helene, Isaac, and Joyce).
Based on long-term averages, in an average season there are twelve (12) named storms of which
six (6) become hurricanes with three (3) being major hurricanes (with wind 111mph or higher).
Many institutions and Scientific Organizations have presented their predictions for
This year the main climate factors playing a role in determining the level of activity in the Atlantic Basin are:
1. The ongoing El Nino Phenomenon, which helps suppress storm activity. The latest models suggest that weak El Nino conditions will persist throughout 2019. However, there is uncertainty as to the strength of the El Nino during the peak of the hurricane season (August to October).
2. Another contributing factor is the Sea Surface Temperatures. Hurricanes and storms strive in warm ocean waters, up till mid-May sea surface temperatures in the tropical Atlantic and the Caribbean sea has been warmer than average.
The question is, how much of an impact will any of these factors have on the formation of storms or hurricanes during the 2019 Atlantic Hurricane Season? These conditions will continue to change as we go through the season therefore monitoring is key. Sea surface temperatures can heat up within a month, there is the uncertainty surrounding the onset and intensity of the El Nino phenomenon.
In the past, there have been El Nino years that produced damaging hurricanes/storms. During the strong El Nino of 1997/98 Hurricane Georges ripped through the Leeward Island with 150mph winds, during the moderate El Nino of 2009/10 Hurricane Tomas devastated St. Lucia and during a weak El Nino of 2004/05 Ivan crushed Grenada.
It should be noted that the seasonal forecasts have little operational value. This means that no matter how many tropical cyclones are forecast to develop, there is no way to predict weeks or months in advance where a certain tropical cyclone is going to develop or what country it will make landfall.
Remember, that it takes only one major hurricane to make landfall on our island to make it an active season for us. We must also be cognizant of the fact that, it does not have to be a storm or a hurricane, an active tropical wave or just 2 to 3 hours of heavy rainfall can have devastating impacts on our lives.
As we begin yet another hurricane season let us learn from our past experience of hurricane Irma and do all in our power to prepare adequately and to seek credible information from the official authority in order to make timely decisions that will protect life and property.
The Meteorological Department St. Maarten (MDS) will monitor the development of all tropical systems closely and will issue watches or warnings when it becomes necessary using various communication mediums; radio, newspaper, through our website and Facebook.
2019
Atlantic Hurricane Season. Most of the predictions released so far, call for near normal to above normal activity this year.