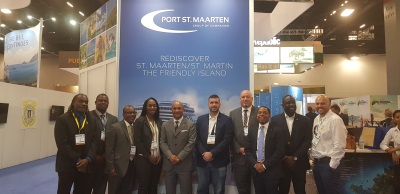 POINTE BLANCHE:--- Port St. Maarten was chosen as the "Best Cruise Port" in the Caribbean Journal (CJ) Travelers' Choice Awards 2019. The Caribbean Journal is the world's largest website covering Caribbean travel. The story can be found at the following link: https://www.caribjournal.com/2019/05/27/caribbean-travelers-choice-awards/
The 2019 edition of the Caribbean Journal Travelers' Choice Awards celebrates the best in Caribbean travel as chosen by their loyal readers. According to CJ, thousands of Caribbean Journal subscribers voted in this year's Awards, selecting from a highly competitive field of nominees by CJ's editorial staff.
Minister of Tourism & Economic Affairs Hon. Stuart Johnson said on Tuesday that he is elated with this news and once again it strongly signifies that the destination is back in business.
"We are a resilient people leading a resilient destination. Due to the hard work, diligence and determination towards our visitors, the destination once again reaps the fruits of its hard work via the voices of the readers of CJ in its Travelers' Choice Awards.
"Congratulations once again to the people of St. Maarten as this accolade is a result of the contributions made during the past 18+ months to bring back our destination back online. We have done it once again and we can all be proud of our achievements," Minister of Tourism & Economic Affairs Stuart Johnson said on Tuesday.
Port St. Maarten Management added: "Once again, our destination has reaped another accolade as being the favorite cruise port of the Caribbean and destination of choice. St. Maarten continues to contribute to memorable experiences for cruise passengers as they rediscover our destination in 2019 and this is evident in their choice as the top port in the Caribbean.
"Another milestone was also made this week with the training from Aquila Center for Cruise Excellence for front line staff. The cruise business is still in a volatile state, and we continue to work diligently to enhance our port experience, in particular, to create a sense of place and time once they disembark the vessel at the Port.
"The forecasted cruise arrivals for the upcoming season will be above 1.5 million cruise passengers and work is being done to increase the arrivals. From a product perspective, the tour offering isn't at 100% yet which goes in tandem with the increase in volume of cruises for upcoming seasons.
"We continue to support the redevelopment of tours and shopping opportunities expeditiously which will benefit the island. We further welcome the news of planned construction of new resorts as this will be beneficial to our homeporting operations and potential expansion.
"Our tourism partners and stakeholders continue to work diligently in 2019 to rebuild and move our destination forward. With what we have learnt in best practices, welcoming smiles, and offering the best service we can so far in 2019, let us collectively continue to grow in the weeks and months ahead in preparation for the 2019-2020 cruise season. Congratulations St. Maarten/St. Martin."
Caribbean Journal is the world's largest website covering the Caribbean, with original content and video focusing on travel and tourism across the entire Caribbean Basin.
CJ also considers itself as the global leader in covering Caribbean travel and trade news — from new flights to luxury resorts to secret vacation escapes. The website has over 1.5 million monthly page views; over 400,000 monthly visits; has 260,000 likes on Facebook; its weekly posts reach over one million; CJ sends out over 440,000 emails per week.
PHOTO CUTLINE: Government officials from the Dutch and French sides of the destination heading their respective delegations President of the Collectivite of St. Martin Daniel Gibbs (5th from left) and St. Maarten Minister of Tourism & Economic Affairs Stuart Johnson (5th from right) along with senior management officials of Port St. Maarten.