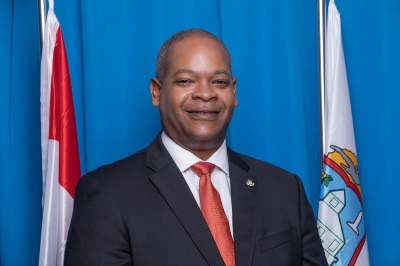 PHILIPSBURG:--- The Sint Maarten Police Force (KPSM) concluded its Cops & Kids programme which is part of their year plan with sports day activities that concluded at the John Cooper/Jose Lake Sr. Ball Park.
Minister of Justice Cornelius de Weever would like to firstly congratulate the participating schools and students that took part in the Cops & Kids programme commend KPSMs leadership, the coordinator, and participating officers for a job well done.
The schools that participated in the sports day this year were: Genevieve De Weever Primary school, Dr. Martin Luther Primary school, Leonard Conner School, Seven-day Adventist school and Sister Regina School. The aforementioned schools participated in four different sports activities, namely Soccer, tug-of-war, relay race and fill-the-bottle.
The overall winner of the 2019 annual Cops & Kids sports day was the Leonard Conner school. Genevieve De Weever Primary school placed 2nd the Seven-day Adventist school placed 3rd, Dr. Martin Luther King placed 4th and the Sister Regina school placed 5th.
"Connecting young people with police officers via the Cops & Kids programme is an innovative police community relations model that develops a positive relationship with the country's law enforcement agency.
"Congratulations to the various winners who took part in the sports day. KPSM is making every effort via these types of programmes which also includes TAPS (Teens and Police Service Academy) which brings forth awareness about pertinent issues that school-going youth are confronted with during their primary and high school years.
"We all want our youth to make the right choices, and as they say, it takes a village to raise a child, KPSM is playing its role in this concept," Minister of Justice Cornelius de Weever said on Friday.