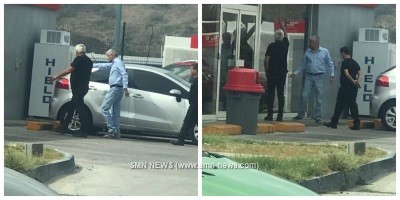 ~ Prison Guards left the hospital before decree on release with conditions were issued based on the verdict set by Appeals Court. ~
PHILIPSBURG: --- Suspended Member of Parliament Theodore Heyliger did not meet the conditions of his release based on the Prosecutor's Office, while the two prison guards left the location after they were told they could Heyliger was not supposed to leave SMMC since his lawyers told the court he was not medically fit to be in prison.
SMN News understands that the two Prison Guards that were posted at the St. Maarten Medical Center (SMMC) to guard Heyliger while he was hospitalized left the location before the Prosecutor's Office could have given the instructions based on the conditions set down by the Appeals Court on Tuesday evening.
SMN News further understands that after the guards left the location Heyliger left SMMC with his wife and later turned over this passport to the Prosecutor's Office along with a letter of guarantee for his bail which was set at $250,000.00.
Based on the guarantee letter the Prosecutor's Office has since given Heyliger two weeks to meet the conditions of his bail by posting the bail and not a letter of guarantee since the letter of guarantee is not enough based on the court's ruling.
TBO team leader Jeroen Kuipers said that persons within the community are questioning if St. Maarten has a bail system in place. He said based on article 111 of the criminal penal code bail is allowed but it is up to the discretion of the court to use the bail system.
Heyliger is expected to appear in court on May 27th since he is accused of committing serious crimes over a long period of time. The Prosecutor's Office believes that they could prove that Heyliger has committed crimes for over ten years to benefit himself in excess of two million dollars. Kuipers said that Heyliger took taxpayers money to benefit himself and also was involved in money laundering. Heyliger has been accused of using his position as a politician for personal gains. Kuipers said that they believe that Heyliger's action was not right and had the money he took had ended up in the right place then one must imagine what the country could have done with that money now that the country is dire straights.
Kuipers also clarified that Heyliger is not the only suspect that spent months in pretrial detention, he said there is another suspect in the LARIMAR investigation that spent the same amount of time in pretrial detention and their office does treat people equally. Kuipers also addressed the fact that Heyliger left the SMMC and is currently at his residence while they were informed that Heyliger was supposed to be hospitalized due to his medical condition, this Kuipers said they found strange.
SMN News asked apart from surrendering of his passport and posting a $250.000,- bail, were there any other conditions that had to be met? Because there is talk that he is going to be re-arrested. Further conditions are that he must to appear in court on designated dates and are not allowed to commit any more punishable offenses. If it was so that he would be re-arrested, the OM would not inform this beforehand.