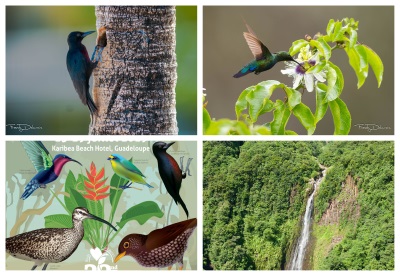 Le Gosier, Guadeloupe:---Every two years, BirdsCaribbean holds its international conference. The meeting is the largest of its kind, attracting hundreds of guests from the region and beyond. This year, it will be held on the island of Guadeloupe from July 25-29, partnering with local host, Parc national de la Guadeloupe.
BirdsCaribbean is the largest conservation group in the region. Its members come from nonprofits, forestry departments and universities all over the region. They do research, save wild spaces and share the magic of birds and nature all over the Caribbean. At the conference, over 200 members will gather in one place to share the latest in research and more. Delegates from St. Martin will include Jenn Yerkes, William Allanic and Mark Yokoyama from Les Fruits de Mer and Binkie van Es from the Dutch Caribbean Nature Alliance.
The conference is important because it is the one time when people working all over the Caribbean come together to learn and share. Training workshops teach skills like how to do a bird survey. New research and techniques for helping birds are shared. This know-how is brought back to dozens of islands where it can be used to save rare birds or protect valuable habitats.
This year's conference is "Keeping Caribbean Birds Aloft" (or "An nou poté mannèv pou zozio karayib volé" in Créole). In keeping with the theme, the conference will feature many ways to help birds in the Caribbean.
"Our birds face many challenges, and we want to address them," noted Lisa Sorensen, the Executive Director of BirdsCaribbean. "We will work on how to protect birds from threats like plastic pollution or habitat destruction. We are also working to promote birds for their value as a tourism attraction and the benefits they provide to people."
You can learn more about the conference at http://birdscaribbean.org/bc2019/, including keynote speakers, workshop themes and field field trips. Registration is open now. BirdsCaribbean is also seeking sponsors to help delegates attend that would not be able to otherwise. Sponsorship donations are tax-deductible for US donors.
BirdsCaribbean acknowledges the help and funding support of many companies and organizations to make this conference a success, including Parc national de la Guadeloupe, Karibea Beach Hotel, US Forest Service International Programs, Benjamin Olewine IV, American Bird Conservancy, Caribbean Initiative, Wildside Nature Tours, Carefree Birding, Holbrook Travel, Optics for the Tropics, Rare Species Conservatory Foundation, Bermuda Audubon Society, Levesque Birding Enterprise, AMAZONA, and The Friendship Association.