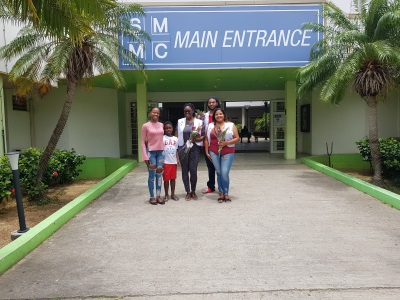 PHILIPSBURG:--- On May 12th, 2019, Mother's Day the St. Maarten South Leo Club treated all the mothers and nurses at the Sint Maarten Medical Center as well as the White and Yellow Cross Foundation to a very special treat in which roses were given out to each of them.
The Leos pride themselves in ensuring that the pillars of our society are recognized for how truly amazing and special they are, this gesture is merely a small token of appreciation for the many great sacrifices that mothers and nurses make on a daily basis. We continue to honor these unspoken heroes on an annual basis for their virtue, courage, and patience but most of all love for the people of our community.
This initiative is one of the many that the St. Maarten South Leo Club has embarked on over the years to ensure that the community is valued and cared for as they should.
The President, Board, and Members of the St. Maarten South Leo Club would like to thank the business community and also the general public for their continued support.
"I can imagine no heroism greater than motherhood." —Lance Conrad
The attached photo shows some of the members from the club with pride providing the tokens of appreciation.