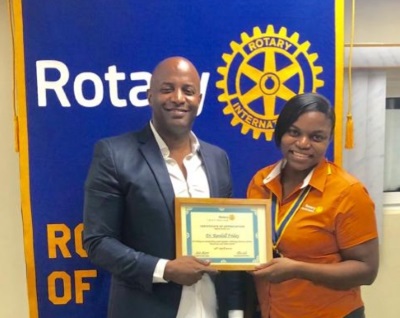 PHILIPSBURG:---In recognition of maternal & child health care month, observed by Rotary clubs worldwide, the Rotary Club of St. Martin Sunset conducted several projects geared at advocating the importance maternal and child health care. Throughout the month, the club presented 100 maternity gift baskets to the St. Maarten Medical Center as well as the Louis Constant Fleming Medical Center of St. Martin. At its general meeting held April 15th, Rotary Sunset welcomed invited guest speaker, Dr. Randall Friday, board-certified OBGYN (Obstetrician/Gynecologist) and owner of Women's Health Services.
Dr. Randall Friday received his undergraduate and M.D. degree from Howard University and is a board-certified OBGYN (Obstetrician/Gynecologist) having completed his residency at Henry Ford Hospital in Detroit, Michigan. He was also the youngest specialist to operate in St. Maarten when he opened his clinic in 2008.
Dr. Friday and members of the club engaged in open discussions concerning the importance of proper health care in pregnant women, the increased instance of birth abnormalities and its correlation to prenatal health care as well as the rising concern of infertility in women and men on the island and treatment options to combat such. One interesting topic sparked the interest of the audience when Dr. Friday outlined the concern of a declining trend in deliveries on both sides of the island and some of the underlying reasons.
Dr. Friday is currently the only gynecologist to offer 3D and 4D ultrasounds at his clinic and was also the first to perform gynecological laparoscopic surgeries on the island. Dr. Friday has been assisting and caring for women's health for several years and the club saw it befitting to honor him as a guest speaker. The Club would like to extend its heartfelt gratitude to Dr. Randall Friday for an informative and engaging presentation.