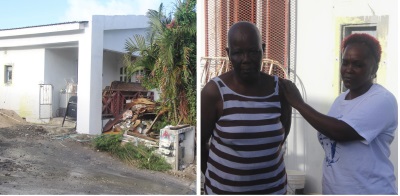 ~I am not even surviving as I do not even have food in the house, while the government spent thousands on carnival and artists. ~
PHILIPSBURG: --- The cries of an elderly woman living in Cape Bay has gone on deaf ears while Government continues with its bureaucracy. Iris Van Putten a 70-year-old woman who recently did a knee surgery in Curacao is living in deplorable conditions in her Cape Bay home.
The woman said that her home was destroyed by hurricane Irma and Maria and she lost everything she owned prior to the catastrophic hurricanes. Mrs. Van Putten said after the passage of Irma on September 6TH, 2017 she had to seek shelter at her brother's home, she explained that about 4 months after she managed to move back in a partly damaged room at the back of her home while her daughters and grandchildren that were living in the family home sought shelter elsewhere. She said she sought assistance from Government to repair her home, but Government only showed up a year after the passage of Irma to assist her.
Mrs. Van Putten said she got some building materials from some Americans that were on the island giving out assistance. "I got the zinc, T-1-11 from these Americans and then Senior Citizen Foundation assisted by sending some workers to replace the roof." The woman said that she even used up the money she had saved up to complete the roof since the materials she had was not enough to complete the roof and to re-enforce the home with new columns.
Mrs. Van Putten said that she contacted the Department of VROMI and was dealing with Kurt Ruan who visited her home and he was willing to provide the assistance to finish the home but Ruan was stopped by Keith Franca who manages the St. Maarten Development Fund. She said Franca stopped Ruan who was trying to help her through the UNDP funds. Franca told Ruan that they were conducting a bidding process on the home to find the right contractors to complete the home. However, Franca later told her the funds he was working with expired and that they could not complete the home.
"They did some work up to early this year, but the home is far from complete and it is not livable. Franca told me to seek assistance from Government which I did to no avail. I went to the Department of Social Affairs I tried to meet with Minister Emil Lee to seek assistance and all he did was to have his workers give me a form to fill up. Now Government is saying they can't provide any assistance because the property is not registered in my name."
The woman said she was married for 35 years to her now deceased husband and the home she lived in was purchased by her and her husband, she further explained that she lost all documentation during the passage of hurricane Irma and now Government is saying that I must pay a notary and make publication of the property in the local newspapers in order for it to be registered before they could grant her any assistance.
The tearful woman said she is thankful for the assistance she received thus far but she also said that she cannot continue to live the way she is living now she is sleeping on a bed with her 20-year-old son. The room she current occupies has a leaky roof while it floods out during the rainy season. "I can't even feed myself with the pension money I get monthly when I am done paying bill's I have nothing left for food. She said her church helped but they also must help others. Only about 3 months ago the woman said she got back electricity and the wiring done on the house is not even safe. Government said they do not have money to do it correctly. I do not have a proper lavatory, everything in those washrooms are broken. "My mother had to put a bucket by the door at nights to use because she could not walk in a dark house on crutches the bathroom at nights."
Her daughter who is the mother of 3 minor children said she is working for minimum wage for a placement agency and she could hardly make ends meet. "I rented a one bedroom apartment and by the time I am done paying rent and bill's I can hardly feed my children I do not have a cent that I can help my mother with, many days I have to watch my elderly mother go hungry and live in deplorable conditions. My mother is ill she recently had a surgery and she was walking around in an incomplete house on crutches. I do not know what is going to happen when my job contract ends but I need to let everyone know that minimum wage saw its last increase 15 years ago and while government is saying they do not have money to help the elderly with finishing up their homes they had thousands of dollars to spend on carnival and to pay hundreds of thousands to bring in artists for the shows.
Besides the deplorable conditions inside the house with unfinished rooms and bathrooms, there is septic water running in front of the house caused by a next-door neighbor.
Venezuelans and Dominicans.
The woman and her daughter said that besides their own living conditions and stress, there are about 10 to 12 Venezuelans and Dominicans living in one room next door. She said due to the number of persons in dwelling there is constant sewage water running in front of their house which they already brought to the attention of Government, but nothing was done. "My mother is elderly and she has to put up with sewage water and noise when those people over there begin to drink and party."
Iris Van Putten said she has absolutely nothing against the foreign nationals living next door because when she did not have electricity, she was able to rest knowing there were people next door despite their own conditions. "It is by the grace of God I am surviving, and I know those people came here to make a living so I just cannot complain about that situation.
Click here to view more photos of the unfinished home.