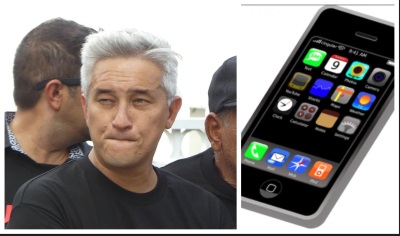 PHILIPSBURG: --- A search team that conducted searches at the Pointe Blanche Prison on Friday 19th April 2019 confiscated a cellular phone that was found in the sick bay of the Pointe Blanche Prison that is occupied by suspended MP Theodore Heyliger.
SMN News learned that Heyliger and those he was calling while incarcerated were upset since they could not be in contact with him during the Easter weekend and the Carnival celebrations.
It is further understood that Heyliger was far better off while held in Bonaire since he was able to move around freely and had access to necessities' such as a microwave, an electric teapot, and television. Heyliger was able to make his own tea and even prepared his own meal for his birthday. It is further understood that Heyliger was treated as though he was on House Arrest instead of being in prison.
A source close to Heyliger said the suspended MP was able to call his relatives and friends anytime he wanted even though he is held in pretrial detention. It is further understood that Heyliger was able to use a washing machine while in Bonaire to wash his clothing, but all of that changed since he was brought back to St. Maarten by request of his relatives.
SMN News understands that Heyliger only gets out of his cell for about 15 minutes per day while he must wash his clothing in a basin and used a torn bedsheet to make lines to hang his clothing so that it could dry.
SMN News received several photographs showing the dilapidated and unhygienic conditions of Pointe Blanche prison cells which is yet to be addressed by the Minister of Justice and the Dutch Government.