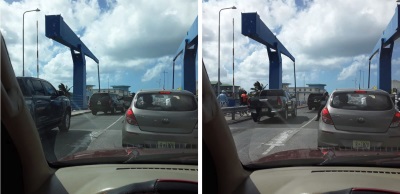 Harbor and Causeway Bridge investigation on high.
PHILIPSBURG:--- TBO Officers arrested Lionel Jermain Joseph a contractor that works with former MP Silvio Matser. The TBO team began searching homes and offices on Tuesday night as the DRACO investigation kicks off. That investigation involves former MP Silvio Matser, the former Chairman of the Supervisory Board of Directors of PJIAE Gary Matser who is also the accountant for his brother Silvio Matser and Lionel Jermain Joseph a contractor.
SMN News learned that the TBO Team searched Silvio Matser home in Cupe Coy Tuesday night while they also searched Matser's homes in Romania. On Wednesday the team conducted searches at the offices of Gary Matser in Cole Bay.
A press release from TBO Spokesman Roderick Gouverneur states the following:-
In the 'Draco' investigation, two house searches were conducted in Sint Maarten by the Anti-corruption Taskforce (TBO) on Tuesday, April 9 and Wednesday, April 10, 2019, under the supervision of the Examining Judge. The searches were conducted in a home in Cupecoy and at an accounting firm in Cole Bay.
In the same investigation, bank accounts, vehicles, expensive jewelry, real estate, and firearms were seized simultaneously in Sint Maarten and in Romania. There were also two-house searches in Romania at the request of the Public Prosecutor's Office. The Public Prosecutor's Office and TBO have worked closely with the Public Prosecutor's Office in Romania and the National Anti-Corruption Service (DNA) of that country. There is a suspicion that suspects in the 'Draco' investigation have diverted criminal assets from Sint Maarten to Romania, among other things, by investing in real estate there.
On 10 April 2019, L.J.J. (38, born in Sint Maarten) was also arrested in Sint Maarten. He is suspected of fraud, forgery and tax fraud. The arrested suspect has been detained and will be brought before the examining judge this week.
'Draco' is the result of the 'Emerald' investigation, which includes investigations into fraud of the Port of Sint Maarten by means of false invoices. This has caused the Port disadvantages of many millions of dollars.
The Anti-corruption Taskforce (TBO)of the Special Police Taskforce (RST) specializes in tackling corruption and undermining financial-economic crime. Among other things, the team investigates fraud, forgery and money laundering.
Prosecutor's Office Press Release.