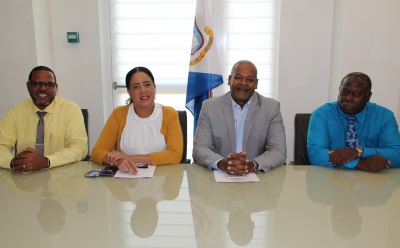 PHILIPSBURG:--- On Monday April 8th Mrs. Peggy Ann Dros Richardson, President of the Supervisory Board of Directors for the National Institute of Professional Advancement (NIPA) and I, representing the house of detention, signed an MOU with the purpose of the ministry of Justice utilizing NIPA's expertise in technical vocational education and training to ensure that those in our system are offered the best possible rehabilitative options through education and for personal advancement.
It is our intention to repair the hurricane Irma & Maria damaged chapel, the work/training stations, storage room and generator room with the help of our inmates. They will become certified in the different areas of construction-carpentry, roofing, electrical installation, plumbing, masonry and general property maintenance and be paid as well. This is a win-win-win situation for all involved.
As we continue to make the much-needed improvements within the Justice Chain. Our aim is to build better individuals and prepare them for the real world, the professional world, where they will have the newly obtained skills to improve their lives and our community.
Given governments liquidity challenge, I have met with representatives of Kooyman and ACE to assist us with this endeavor. We will be setting up accounts for anyone or any company to donate to this worthy cause. We will need building materials, equipment and appliances in order for this to be a success and through public-private-partnerships we can achieve more together.