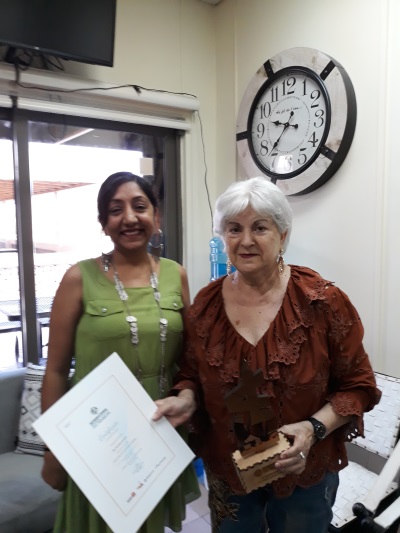 PHILIPSBURG:--- Dr. Pouneh Alcott, the founder and Executive Director of Learning Unlimited Preparatory School (LUPS), was recently honored with the 'Lifetime Achievement Award' at the International School Awards (ISA) in Dubai (UAE). ISA's main goal is to build a strong international educational community and recognize and celebrate excellence in education through innovation and leadership.
This award was bestowed to mark Dr. Pouneh Alcott's ongoing contribution to education. Starting her career in 1963 as an Ohio Branch Librarian, to being the founder and director of Learning Unlimited Preparatory Schools (Ohio, Florida, and St. Maarten), Dr. Alcott has never stopped contributing her talents and skills to the Education Community. She is 78 years old now, but still has the energy of a teenager. Dr. Alcott's vision has a clear sense of moral purpose while possessing a great determination, patience, and will-power to see things through.
Dr. Alcott believes that it is very important that we start talking about 'learning', not education, as learning is not limited by time or space; it is happening at anytime, anywhere and at every age. Coupled with academics, it is important that kids learn empathy, decency, creativity, and resilience. Through the ISA awards, she shares her ongoing belief that a change in education is needed as the gap between education and the world we live in is widening with every day that passes.

Without a doubt, Dr. Pouneh Alcott deserved the 'Life Time Achievement Award', for her exceptional work in the field of education! Mrs. Maya Hotwani, Early Childhood Coordinator and Grade 4 teacher at LU nominated Dr. Alcott for the award she was ultimately presented with a few days ago.