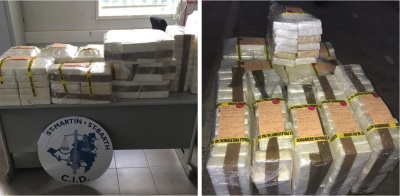 MARIGOT:--- On the night of December 2 to 3, 2018 in Saint-Martin (971), a ship carrying 285 kg of cocaine was intercepted by the Coast Guard Brigade (DF24) in Grand Case Bay. One of the individuals on board was arrested and placed in custody while two other individuals manage to flee.
The investigations carried out by the detachment of the Research Section of Saint-Martin in co-referral with the OCRTIS made it possible to locate one of the suspects in continental Guadeloupe. On January 29, 2019, he was spotted in the sector of Gosier. He killed himself to escape his arrest.
A vast judicial operation was then triggered simultaneously in Guadeloupe and Saint-Martin. It led to the arrest of eleven individuals and gives rise to the seizure of several vehicles, boats and large cash amounts in cash.
04 people are in custody. The judicial inquiry opened at the Inter-regional Specialized Jurisdiction of Fort-de-France (972) is continuing.