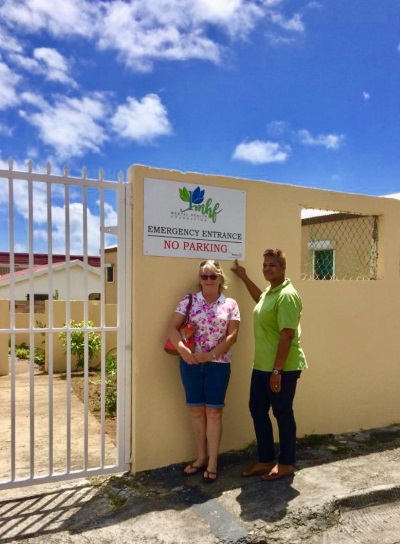 PHILIPSBURG:--- The Rotary Club Sint Maarten-Mid Isle donated 4 new signs for the Facility of the Mental Health Foundation last week as the old signs were damaged by the hurricane and contained the old company logo!
''It is important that the Mental Health Foundation is noticeable so that people know where they can go if they need help'', said Rotary Club President Ms. Denise Antrobus (in picture left). ''With the new signs, we hope to add to the professionality of the foundation and raise awareness about mental health on the island of Sint Maarten''.
The Mental Health Foundation is grateful for the donation and is happy that the buildings new facelift. ''Our location in Cay Hill (Leopard road #1, right behind Kooyman) is a bit hidden so these signs will definitely help us become more noticeable and therefore accessible for everyone'', says Case manager Dione Trustfull.
Pictured in the photo Rotary Club Sint Maarten-Mid Isle president Denise Antrobus, MHF case manager Dione Trustfull not pictured in the photo MHF Interim Director Ms. Eileen Healy and MHF Executive assistant Cyrille Brooks.