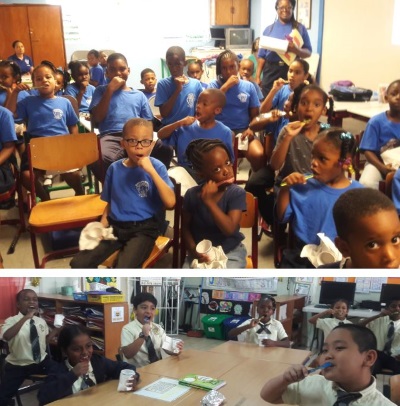 GREAT BAY(DCOMM):--- World Oral Health Day (WOHD) is celebrated every year on 20 March and this year's theme is: Say Ahh, Act on Mouth Health."

The Ministry of Public Health, Social Development and Labour (Ministry VSA) Collective Prevention Services (CPS), a department within the ministry, says its dental unit continues to carry out regularly oral health presentations at the country's primary schools and within the community promoting oral health.

WOHD is an international day to celebrate the benefits of a healthy mouth and to promote worldwide awareness of the issues surrounding oral health and the importance of oral hygiene.

It is a day for people to have fun that make you laugh, sing and smile.

The World Health Organization (WHO) says the today the world faces two kinds of malnutrition, one associated with hunger or nutrition deficiency and the other with dietary excess. Diet and nutrition affect oral health in many ways.

The WHO says research has shown that fluoride is most effective in dental caries prevention when a low level of fluoride is constantly maintained in the oral cavity.

According to the World Dental Federation, about 90 per cent of the world's population will suffer from oral diseases in their lifetime and many of them can be avoided.

Oral health means the health of the mouth. A healthy mouth allows you to speak, smile, smell, taste, touch, chew, swallow and convey a range of emotions with confidence and without pain, discomfort and disease. No matter what your age – 5, 25, 65 or 85 years – oral health is vital to your general health and well-being.

Oral diseases are the most common noncommunicable diseases (NCDs) and affect people throughout their lifetime, causing pain, discomfort, disfigurement and even death.
Behavioural risk factors for oral diseases are shared with other major NCDs, such as an unhealthy diet high in free sugars, tobacco use and harmful use of alcohol.
Severe periodontal (gum) disease, which may result in tooth loss, was estimated to be the 11th most prevalent disease globally.
Severe tooth loss and edentulism (no natural tooth) was one of the leading ten causes of Years Lived with Disability (YLD) in some high-income countries.
The Global Burden of Disease Study 2016 estimated that oral diseases affected half of the world's population (3.58 billion people) with dental caries (tooth decay) in permanent teeth being the most prevalent condition assessed.
To reduce oral diseases, it is up to you to take preventative measures.

The WHO says, dental caries can be largely prevented by maintaining a constant low level of fluoride in the oral cavity. Optimal fluoride can be obtained from different sources such as fluoridated drinking water, salt, milk and toothpaste.

Twice-daily tooth brushing with fluoride-containing toothpaste (1000 to 1500 ppm) should be encouraged. Long-term exposure to an optimal level of fluoride results in substantially lower incidence and prevalence of tooth decay across all ages.

Eat a well-balanced diet low in sugar; eat adequate amounts of fruit and vegetables which may have a protective role in oral cancer prevention; and reduce smoking and alcohol consumption.