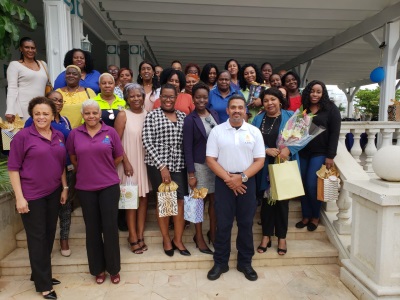 PHILIPSBURG:--- The Local Board of the Union ABVO (Algemene Bond van Overheidspersoneel), through their president Mr. Sharlon Cathalina, acknowledges the very important role that many women on Sint Maarten play in the workplace as well as in the community. It was with that in mind that they saw it very fitting recently, to use the opportunity surrounding International Women's Day, to recognize the female members of the Union.
The ABVO Union consists of members from among others the Immigration Department, the Tax Office, the Point Blanche Correctional Facility, the Police Force, Kooyman, Sint Maarten Port, SZV, Mental Health, Princess Juliana Airport, WINAIR. The Ladies were guests at a ceremony held by the union at their honor at the Princess Port the Plaisance Hotel.
The guest speakers at the event were Ms. Henrietta Doran-York and Ms. Daisiray Lake, who both provided captivating presentations, which were pleasantly received by those present.
Henrietta Doran-York, who was asked to share about herself as a hardworking woman in this society, began by sharing a little about herself as a born and raised St. Maarten (Middle Region) woman. She went on to speak about her experiences growing up in a large family, about her parents, neighbors, and others that stood out during her childhood and even after becoming an adult and forming her own family, which consist of her husband, 4 children and 3
grandchildren.
She went on about previous times when women in the village assisted each other and stuck together when times were rough. She observed this expression of closeness amongst the village women in those times. These women would feed and care for especially the neighborhood children as if they were all one family. Henrietta went on to mention a few names of some of the great women in the neighborhood who were greatly respected for their kind gestures and
tremendous strength. Women such as Ms. Maria, Ms. Alice Philips, Ms. Elly, Ms. Marjorie, Ms. Eva, Ms. Almin, Ms. Mary, Ms. George, Ms. Cynthia, her own grandmother Ms. Rose Ruan, Ms. Whilma, Ms. Muriel Lake and Ms. Eulalie Meyers who among many others gave much more their normal share.
Furthermore, Henrietta gave a synopsis of her work experiences over the years from being the first female prison official on Sint Maarten, then becoming the first female prison supervisor of the Netherlands Antilles, Member of Parliament of the Netherlands Antilles, Deputy Prison Director, Deputy Minister Plenipotentiary, President of the WICSU/PSU Union and Minister Plenipotentiary.
She encouraged the ladies to use their strength, resilience, and uniqueness to ban together and continue to aim high while standing up for what they perceive to be right and just.
In the end, she reminded the attendees that the women back in the day thrived on the fact that real "Strength" can only to be found in "Unity". Therefore only through genuine togetherness, and with the help of the Almighty, can what may seem to be impossible, become possible.
Daisiray Lake, summarized her definition of success, with the intention of creating a level of awareness to each attendee.
She encouraged all to note areas in their life that they would like to be more successful in as the old adage goes …."a goal is a dream set to paper". Don't just think it - ink it!"
Daisiray further explained that her growth in certain areas of her life is due to her membership in Toastmasters International. "I didn't know how much I would grow and how much fun I'd have while doing it!" Her 3 main reasons for remaining a toastmaster are:
1. Improved Confidence,
2. Networking,
3. The ability to travel and discover other cultures.
She also challenged all attendees to think about which misgivings are holding them back from achieving success, and also reminded them to Stand up, despite failures.
Cheer up, despite sorrow, and Succeed, despite the pain!
Her message was powerful but simple as she ended with the following:
"Ladies the universe is filled with stars, my wish to you is, just be sure to shoot for your very own star"
The MC for the event was the well-known Fernando Clark, who entertained and amused the attendees, almost bringing them to tears of laughter with his jokes and comedy.
The attendees were treated to a wonderful local lunch and had the time to socialize and bond with their union leaders and colleagues.
Mr. Cathalina as president of the Union thanked all members of the board of the ABVO and everyone else who worked tirelessly to make this event a tremendous success, mentioned that the Union plans to continue with these stimulating events with their members.
He extended a special word of thanks to Ms. Lake and Ms. Doran-York for their contribution as guest speakers at the event and presented them with flowers and tokens of appreciation.
The board of ABVO also presented all Ladies in attendance with a gift in appreciation of there hard work and contribution to the workplace in particular and the society in general.