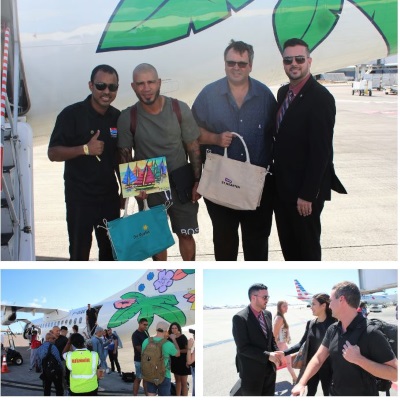 PHILIPSBURG:--- These photos show the impact the SXM Festival internationally, as on Wednesday afternoon Minister of Tourism the Honourable Stuart Johnson greeted the first passengers from American Airlines who arrived on St. Maarten specifically for the SXM Festival. The festival is being considered an "electronic music takeover of the Caribbean and attracts people from around the globe to the island.
In the photo from the left is Member of Parliament Rolando Bryson, Multiple World Champion boxer Miguel Angel Cotto Vazquez, CEO of Coco-Cola Puerto Rico Bottlers Alberto De la Cruz, and Tourism Minister the honourable Stuart Johnson. Minister Johnson gave the VIP Guests for the SXM Festival a token of appreciation and welcomed them on behalf of the Tourism Ministry and the Government of St. Maarten. MP Bryson who also supports SXM Festival was at the airport as well to welcome the guests welcome gifts as well.
This photo shows a large group of VIP guests who chartered an Antilles Airline flight from Puerto Rico to St. Maarten to attend the SXM Festival. They arrived on Wednesday afternoon.
Minister of Tourism, the Honourable Stuart Johnson, greets the first SXM Festival passengers who came off an American Airlines flight Wednesday afternoon. He welcomed them and thanked them for choosing the destination for their vacation and entertainment.