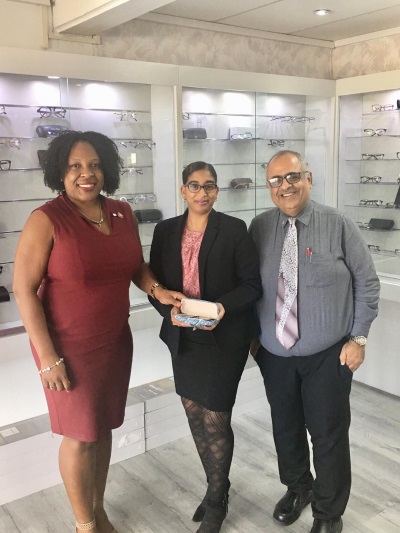 PHILIPSBURG:--- Annually, the Rotary Club of St. Martin Sunrise donates eyeglasses to a number of students from various elementary and secondary schools. Part of the funds to purchase the eyeglasses was made available through the Bert Miller Funds, a fund created in the name of the late Dr. Bert Miller from Nova Scotia.
Dr. Miller, an eye doctor by profession, who was a regular visitor of St. Maarten as a timeshare owner at Belair Beach Hotel. Sadly, Dr. Miller passed away during his last visit on St. Maarten in March of 2008. At his memorial held on the island, his family, Belair Beach Hotel timeshare owners, and guests donated funds towards eyeglasses for children in need, as they knew Dr. Miller would have wanted. Annually Dr. Miller wife, Carol Miller donates funds to the club ensuring that the Bert Miller Glasses Fund Program continues. The club holds Fundraising events throughout the year to acquire the additional funds required in order to sustain the program.
Rotary Club of St. Martin Sunrise was approached by Student Care Coordinator of St. Maarten Academy (FAVE) with the request for assistance with the purchasing of eyeglasses for a student of Form 5, who is currently preparing for CSEC examinations. The request was reviewed and granted by the club. Along with a contribution of St. Maarten Optical N.V. the student was able to choose and acquire the glasses of choice.
President Valda Hazel stated that The Rotary Club of St. Martin Sunrise is happy to continue contributing to the community in all forms of service, be it physical or material. Providing a child in need with eyeglasses allows the child to function better in their education. This student, in particular, will be sitting exams shortly and therefore needs proper vision to complete it successfully. The Club would like to acknowledge and thank St. Maarten Optical N.V. for their generous contribution in aiding the student.
The President stated that there is a decline in requests for assistance with purchasing eyeglasses; we would like the school directors to know that the project is still ongoing and the club is prepared to review and assist once the child is eligible.