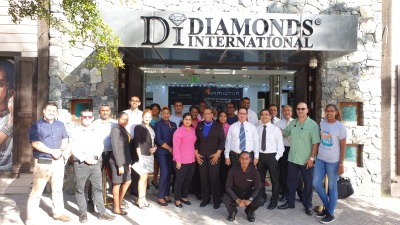 Largest corporate contributor of volunteers to SXM DOET to date
PHILIPSBURG:--- SXM DOET will be receiving a substantial number of volunteers to a selection of the 124+ registered projects thanks to the staff and management of Diamonds International.
Some 115 staff will be lending their time and energy to a number of projects being organized for Friday, March 15th. Diamonds International's participation in SXM DOET makes the company the largest corporate contributor of volunteers to the edition since its inception in 2015.
"We are happy to be involved in SXM DOET and add the initiative to our portfolio of worthwhile causes, charitable organizations and community programs both in Sint Maarten as well as in our global chain which stretches from Curacao down south, Mexico to the west and Alaska in the north," Diamonds International management states.
SXM DOET is the largest volunteer event in St. Maarten and part of the Kingdom-wide Koninkrijk Doet initiative, which takes place annually in the Netherlands and all Dutch Caribbean islands. The event encourages local non-profit organizations to host small projects for which they need the assistance of volunteers to be able to execute over the course of two days, March 15 and 16, 2019.
Project Managers Melanie Choisy, Laura Bijnsdorp and Fleur Hermanides are elated at Diamonds International's commitment to SXM DOET and applaud the company for utilizing the event to team-build amongst their staff. "Diamonds International is showcasing true corporate social responsibility and is leading by example," says Melanie Choisy.