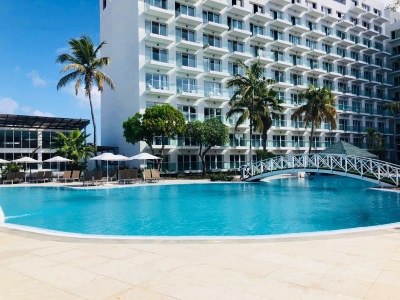 PHILIPSBURG:--- L'Association des Hoteliers de Saint Martin, the Saint Martin Tourism Office, in conjunction with the Sint Maarten Tourist Bureau and St. Maarten Hospitality & Trade Association proudly officially announce that the SMART 2019 Tradeshow will be hosted by Sonesta Maho Beach Resort Casino & Spa. The organizers are expecting numerous Tour Operators, Travel Agents, Travel Writers and Event Planners from US, Canada, and Latin America to return to the island for this well-known regional event.
Sonesta Maho Beach Resort Casino & Spa has been thoroughly renovated and is coming back stronger than ever before, keeping its family-friendly charms, offering an amazing array of restaurants and bars, Kids Club and Teen Zone, fun daily activities and personalized services.
SMART will be held on 21d – 23d of May. SMART is the largest and most well-known trade show of the Northeastern Caribbean. It is hosted annually by the two sides of the island Sint Maarten/ Saint Martin. SMART is a travel platform for foreign tour operators, travel writers and websites to do business with local hoteliers, operators and businesses. The 15th and most dynamic and largest edition thus far will consist of 3 days of inspiring innovative Masterclasses, workshops, activities, festivities and business to business appointments.
SMART 2019 kicks off on Tuesday May 21 2015 when delegates have the opportunity to meet and mingle with their peers at the Welcome Reception, before two full days of business where participants have set up appointments with travel partners and wholesalers as well as hotel and excursion operations for one-on-ne discussions on potential business ventures. In addition, tours will be provided to experience the island.
Early Bird Season has started this week. Sonesta Maho Beach Resort Casino & Spa offers reduced rates for SMART participants. Registration for Early Birds as well as receiving SMART hotel rates can be done at This email address is being protected from spambots. You need JavaScript enabled to view it.. Event information will be continuously updated at SHTA.com/SMART. For reservations or questions, please call +1-721-542-0108.