PHILIPSBURG:--- Minister of Finance Perry Geerlings recently granted a NAF 12.3M contract to Bearing Point for the Tax Department ICT. Besides the NAF12.3M the Minister also agreed to pay another NAF2M for consultation fees.
SMN News learned that three companies submitted bids for the ICT project one being Computech that submitted the lowest bid while Bearing Point a Curacao based company submitted the highest bid, yet the contract was awarded to the highest bidder when St. Maarten is depending on the Dutch money to repair roofs and key government buildings including schools.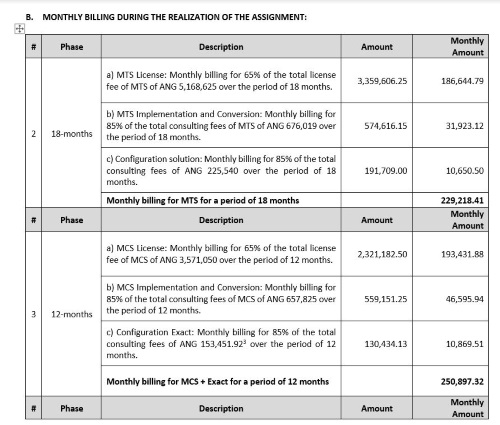 SMN News further learned that Geerlings will allegedly be getting a kickback from the recently signed contract since his significant other that was working in his cabinet was a former staffer of Bearing Point and since the contract was awarded to Bearing Point the female employee went back to work at Bearing Point.
The agreement states that Bearing Point can be entitled to additional fees which will be invoiced.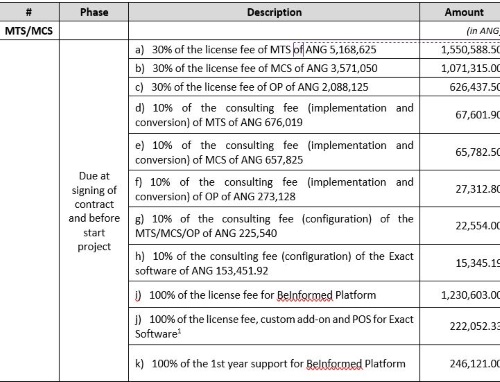 The agreement under Terms of Master Service Agreement allowed the Tax Department to compensate Bearing Point for damages to their software. While the agreement is signed on behalf of the Tax Department, the agreement further states that the Tax Department intends to collaborate with Curacao and the Caribbean B/CN since they have all invested in similar IT solutions and related ICT services.
Bearing Point will provide support at an extra cost but the agreement also allowed parties to seek outside support for additional costs. The said agreement states that Bearing Point can increase its support fees by 3% annually, the increase is not limited to 3% in the event there is a difference in the indexed figure.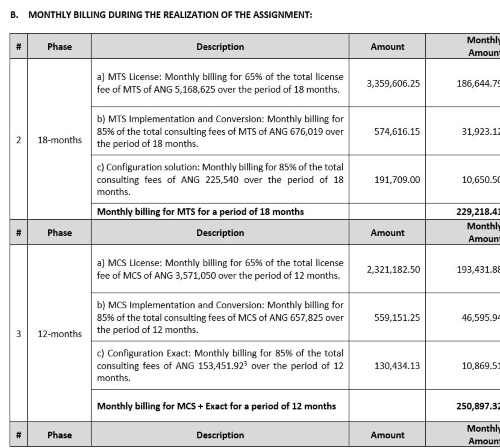 The agreement also gives Bearing Point the right to conduct inspections on a sporadic basis and which cost will be borne by the Tax Department if it's found that they are not complying with the use of the software based on the signed agreement.