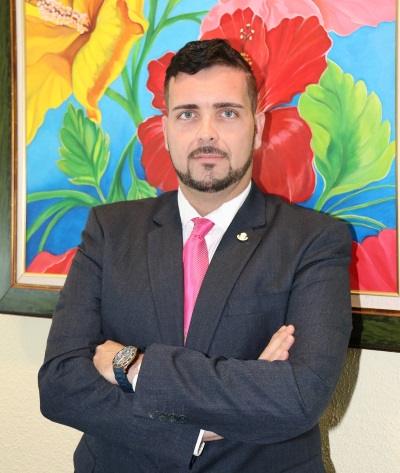 PHILIPSBURG:--- Minister of Tourism & Economic Affairs Stuart Johnson extends congratulations to the management and staff of St. Maarten's Topper's Rhum Distillery after placement of 1stplace in the USA Today 10 Best Caribbean Rum Distillery contest competition.
Theprestigious competition is amongst some of the most famous rum brands in the world such as Bacardi, Brugal, Angostura, Cruzan, Mount Gay, Appleton Estate and Barbancourt.
"When a local rhum reaches the international arena, you have to recognize those involved for their persistence, dedication, and determination.
"A Sint Maarten rhum is a promotional tool for the destination when it comes to name recognition. It is also a product that visitors can take back home to their as something to remember, but at the same time, they can promote the island to their friends as 'word of mouth' promotion when talking about and offering friends and family a glass of Topper's Rhum.
"The Topper's Rhum Distillery is already promoted as one of the top unique places to visit while vacationing on the island.
"To the management and staff of Topper's Rhum Distillery, keep up the good work, as the recognition you have received from USA Today is well deserved," Minister of Tourism & Economic Affairs Stuart Johnson said on Thursday.
USA TODAY's 10Best.com, provides travelers with original, unbiased, and experiential travel content around the world. At its core is a team of well-traveled and well-educated experts who in their fields are known for their discriminating tastes.
Topper's Rhum, is handmade, bottled, and packaged in Cole Bay, St. Maarten. According to information, Topper's Rhum only uses all-natural premium ingredients and no preservatives.
Topper's Rhum is found in reusable swing-top bottles and is currently exported to seven countries and 23 states in the USA.
Topper's Rhum has already won 24 international medals from the most prominent rum tasting contests in the world.