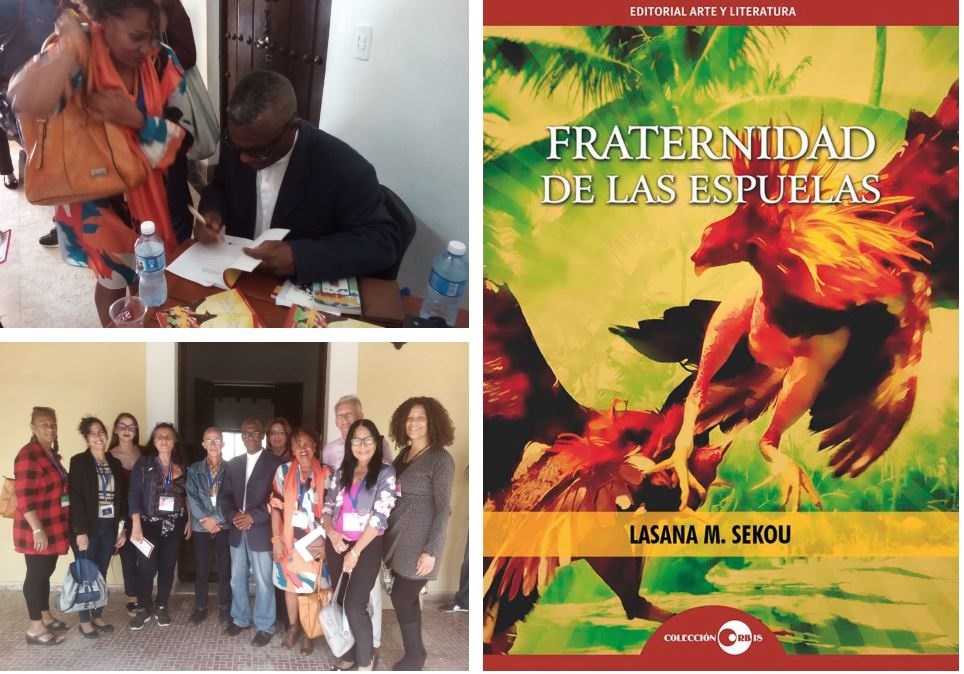 GREAT BAY/MARIGOT:--- Lasana Sekou's first Spanish-language book of St. Martin short stories, Fraternidad de las espuelas, has been published in Cuba by Editorial Arte y Literatura.
The book was launched at the 28th International Book Fair of Havana, Cuba, February 7-19, 2019, according to Iyaimi Palomares, director of Arte y Literatura.
Sekou's stories allow readers to explore a Caribbean universe that is filled with "tension and intensity," said Gertrudis "Tula" Ortiz during her review of the title at the book launch last Thursday, in the Sala Jose Portuondo.
The stories, from the original English Brotherhood of the Spurs (HNP, 1997, 2007), were translated by Emilio Jorge Rodriguez, an independent scholar, and Caribbean literary historian.
Rodriguez worked closely with Adriana Marcelo Costa, the book's editor at Arte y Literatura, to realize "a faithful translation of the spirit of the book" – from Brotherhood to Fraternidad – said Ortiz.
Ortiz, a professor of Caribbean cultural studies at the University of the Arts, Havana, critiqued Fraternidad within a wide Caribbean context: "The four stories of Fraternidad de las espuelas (Brotherhood of the Spurs) are written with a singular voice, with its own registries."
Ortiz said that, "There are significant intertextual occurrences of Western culture, and quotes of classics of Greek and other cultures that allow us to classify Lasana … as another type of Caliban."
Ortiz, who is also a researcher in Latin American studies, said that, "He (Lasana), like George Lamming, Derek Walcott, Aida Cartagena and even our own writer, Virgilio Piñera and others, appropriates these codes using the registries, the language of the colonizer, to construct a universe, a route that leads to a new aesthetic experience, which must be read with a differentiating look and to convince us that, as Benítez Rojo said in his seminal essay 'The Repeating Island,' the Caribbean is an engine of flow and interruption at the same time, a technological-poetic engine or a meta-engine of diversity."
Literary critic Fabian Badejo broke the new book news here last Sunday on "Culture Time," his popular PJD-2 Radio magazine. "The translation of Brotherhood of the Spurs extends St. Martin literature and culture, and books by Lasana into the Spanish-speaking Caribbean and Latin America," reiterated Badejo on Thursday.
"This exciting news also comes within the 40th anniversary year of Lasana Sekou as a St. Martin author of over 20 books," said Badejo.