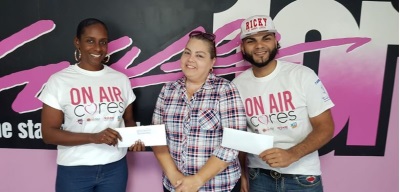 PHILIPSBURG;---Hurricane Irma affected the people of St. Maarten, one way or the other. Rosalba Krozendijk was one of them. After the devastating hurricane, both her parents were flown out to Aruba to continue their medical treatment. However after their treatment was received, they were stranded in Aruba and had no way to return back home.
After hearing her story, the stations of Philipsburg Broadcasting (Laser 101, Oasis 96.3, Tropixx 105 and Mix 94.7) as part of their 25th-anniversary celebration stepped in and assisted in bringing her parents back home to St. Maarten. On Thursday, January 31st, 2019, Rosalba was presented with two airline tickets which were used to fly her parents back to St. Maarten.
Rosalba was extremely grateful as she hadn't seen her family since September 2017 and thanked the on-air personalities of the several stations that helped to make this task a reality to her. On air cares.