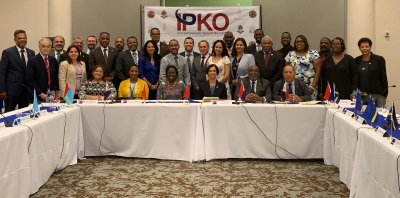 PHILIPSBURG:--- Delegations from the Parliaments of Curaçao, Aruba, and Sint Maarten met today for a Tripartite discussion. The goal of today's meeting was to prepare for the Interparliamentary Kingdom Consultation as well as discuss topics of mutual interest.
Among the topics discussed were, Constitutional Court; Dispute settlement; Current relations within the Kingdom; situation in Venezuela; Collaboration Immigration service of Sint Maarten with the Royal Netherlands Marechaussee and handling immigration in general via ferry; Collaboration in the field of Education more specifically the Caribbean Secondary Education Certificate. The meeting was deemed to have been very successful.
After the meeting, members of the delegations along with Members of the Parliament of Sint Maarten who were present as observers posed for a group photograph.
The Interparliamentary Kingdom Consultations (IPKO), will commence tomorrow, January 8, 2018; at 10:00 am with the opening and welcome address by the Chairlady of Parliament and a short speech by each delegation leader.
The Interparliamentary Kingdom Consultations (IPKO) session will be carried live on St. Maarten Cable TV Channel 115, the audio via the internet www.sxmparliament.org, www.pearlfmradio.com and Parliament's Facebook page: Parliament of Sint Maarten.