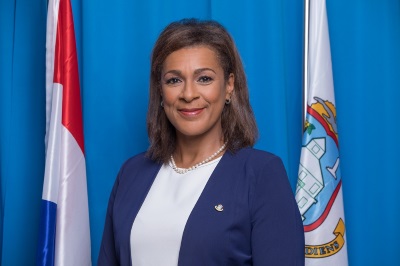 PHILIPSBURG (DCOMM):--- The Minister Plenipotentiary of Sint Maarten, Drs. Jorien Wuite, represents the Government of Sint Maarten in the Netherlands.
In order to effectively bring forward Sint Maarten's interests in the Netherlands and, more specifically, in the Kingdom Council of Ministers, the Cabinet of the Minister Plenipotentiary works in close collaboration with the government departments on Sint Maarten.
This became even more apparent over the last few weeks, when the Caribbean countries were informed of the fact that the dispute regulation proposal for the Kingdom would be placed on the agenda of the Kingdom Council of Ministers' meeting of November 23rd, 2018.
The Caribbean countries were only involved during the last few weeks. The Ministry of Interior Affairs and Kingdom Relations provided technical briefings to the governors, high officials of the Caribbean countries, including Prime Minister Leona Romeo-Marlin, and the Ministers Plenipotentiary in The Hague.
Leading up to last Friday's Kingdom Council of Ministers meeting, the Ministry of General Affairs worked closely with the Cabinet of the Minister Plenipotentiary to formulate Sint Maarten's stance on this issue.
As the Minister Plenipotentiary receives her mandate from the office of the Prime Minister of Sint Maarten, consultations were held prior to the Kingdom Council of Ministers meeting.
The Ministers Plenipotentiary of the three Caribbean countries kept each other updated on their countries viewpoints.
The Cabinet and Legal Affairs and Legislation on Sint Maarten will maintain their focus on this very important issue, as Parliaments will now finally get the opportunity to acquaint themselves with the proposal.
Both the Inter-Parliamentary Kingdom Consultation (IPKO) and the Parliaments of each overseas Kingdom country have been keeping this important issue high on their political agenda.
They did so by achieving historic consensus on the topic by emphasizing the importance of a dispute regulation within the Kingdom as well as by formulating three starting points for a dispute regulation: disputes have to be resolved by an independent institution, dispute resolution must have a binding outcome, and the scope of the dispute regulation must be restricted to legal disputes regarding the Kingdom.
The IPKO will most likely discuss whether the new proposal is in accordance with its proposed starting points in the period of January 8-11, 2019 when they meet on Sint Maarten.
For further information: Mrs Kelly Busby, Senior policy officer Education, Culture, Protocol & Press: This email address is being protected from spambots. You need JavaScript enabled to view it.