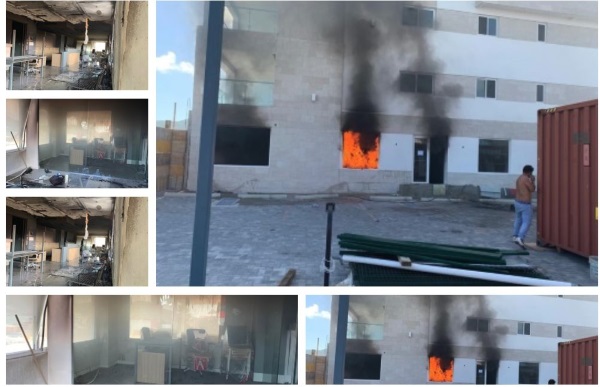 PHILIPSBURG:--- A early morning fire broke out at Theo Heyliger building in Simpson Bay. According to information SMN News received is that there was an explosion prior to the fire. Police Spokesman Ricardo Henson confirmed that a fire was in the building and that firemen put out the small blaze. Henson said at least one person was injured and currently government inspectors are busy investigating the cause of the fire.
It should be noted that staff members from all government-owned companies will be moving into the new building. Already TELEM and GEBE are busy moving while the administrative staff of Princess Juliana International Airport will soon move in.
Fire reported/ one person injured.
PHILIPSBURG:--- On Wednesday, November 21st at approximately 10.30 a.m. police patrols, firefighters and paramedics were directed to a construction site next to the gasoline station on the Airport road after reports of an explosion taking place at said the location and that one person was injured. On the scene, the investigating officers noticed that a section of the building on the ground floor was ablaze however it was extinguished by the fire department. They also learned that an explosion had taken place and a construction worker had suffered minor injuries. The victim was treated on the scene by paramedics and did not require further medical attention. The cause of the explosion is being investigated by the Government Safety Inspection Department.
KPSM Press Release.