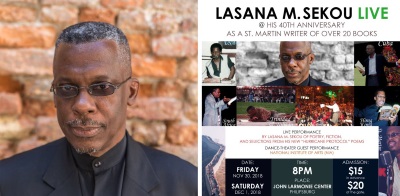 GREAT BAY/MARIGOT:---The 40th-anniversary concert of St. Martin's Lasana Sekou as an author of over 20 books, takes place on November 30 and December 1, 2018, at 8 PM, said Shujah Reiph, president of Conscious Lyrics Foundation (CLF).
"It's a cultural event at the John Larmonie Center on Long Wall Road, next to the LB Scott Sports Auditorium," said Reiph, who is also producer of the concert.
Sekou will recite from his books of poetry and fictions, starting with his first book from 1978; and from his upcoming Hurricane Irma collection," said Jacqueline Sample, his publisher at House of Nehesi (HNP).
"Lasana's monologue 'Great Grandmother T' will be dramatized by leading choreographer and singer Clara Reyes, and the National Institute of Arts (NIA) will perform some of his poems as dance-theater," said Reiph,
"Lasana has performed on five continents. His poetry and short stories are studied in universities in the Caribbean, Venezuela, Mexico, the USA, Canada, and in Europe," said Reiph.
"Critics compare Lasana Sekou to Kamau Brathwaite, Dylan Thomas, LKJ, and e.e. cummings. Fabian Badejo and Harvard scholar Abiola Irele compare his work to Aimé Césaire."
"But I still think that when he gives the rare solo reading of his work at home, it's in St. Martin where he puts most of his heart and soul," said Reiph.
Admission to the literary show is $15 in advance, or $20 at the gate, said Reiph. Tickets are available at NIA, John Larmonie Center, and SOS Radio 95.5 FM (across from the ball field), Rue de Hollande, Marigot.
Lasana M. Sekou Live @ his 40th anniversary "is powered by Conscious Lyrics, House of Nehesi Publishers, SOS Radio, and NIA," said Reiph. Proceeds from the ticket sales will be contributed to the upcoming book of Hurricane Irma poems from HNP and the 17th annual St. Martin Book Fair 2019, said Sample.