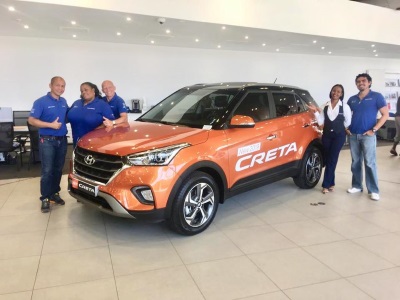 PHILIPSBURG:---The best selling compact SUV in St. Maarten/St. Martin has just gotten a thorough refresh. Worldwide, Hyundai has had great success with the Creta Compact SUV in the past years, now the Korean automaker has launched the redesigned 2019 Creta which takes a sportier approach to the overall styling, giving it an aggressive stance. If you did not understand its really simple and cool name Creta, it is derived from the beautiful Greek island of Crete.
"The Hyundai Creta has long been one of the most popular SUVs in this region, considering the affordable price for advanced features and spacious comfort. The New 2019 Hyundai Creta gets several enhanced design touches on the exterior as well as the interior. There are more new color options and dual color options that are launched with this new model, which we are excited to introduce," shares Tariq Amjad, Managing Director of Motorworld, the authorized local Hyundai dealership.
EXTERIOR
• Bold Cascade Design Front Grille- The new bold cascade design of the front grille adds a touch of glamour while blending with the bodywork, thus making a statement that is bold, forthright and uniquely Hyundai.
• Stylish Fog Lamps with LED DRL- Unique & newly designed and located below the bumper, the front fog lamps with LED DRL (daytime running lights) and Positioning lamp will help you see better in bad weather and also adds to the overall bold frontier look.
• Projector headlamps- The Bi- functional Projector headlamps of the CRETA adds to the front aesthetic appeal of the car.
• Alloy Wheels- A variety of wheel ensures the driving experience you want. High-performance R16 Clean silver alloys and wider R17 Diamond cut alloy wheels accentuate the sporty look.
• Bold Front and Rear Skid Plates Sporty and silver colored Skid plates add a sense of ruggedness and sporty character to the front and rear both.
• Shark Fin Antenna- This is a segment unique feature, which along with integrated rear spoiler makes the rear sporty and exciting, reserved usually for premium high-end sports cars.
• Sleek and premium Split-type tail lamps Split-type rear combination lamps create a simple yet modern rear image. Excellent visibility from that angle reduces the possibility of a rear-end collision.
• New Colors- Marina Blue, Passion Orange and Fiery red brings additional excitement and freshness to the new Creta. Dual Tone Cretas comes with a piano black roof and sporty black spoiler to match your style statement.
INTERIOR
• Smart Electric Sunroof
Enjoy the luxury life in the Perfect SUV equipped with a smart electric sunroof in fully loaded models.
• Advanced Supervision Cluster- The cluster displays comprehensive vehicle information about Steering position reminder, parking sensor display, control lights and more. Considering a use convenience by placing a control system harmoniously and coherently, it provides an intuitive control convenience that is user-centered.
• Dual Tone Interiors
CRETA dual tone comes with revised black/grey, black/beige and all new black/orange, black/red seating fabrics/leather and decorative elements for a truly premium and luxurious interior.
PERFORMANCE AND HANDLING
Powertrain An advanced powertrain delivers exhilarating performance. High torque at low and middle engine speeds increases the acceleration response and strengthens driving performance. The 1.6L petrol engine is extremely robust whilst also providing superior fuel economy compared to rivals.
Fine Tuned 6-Speed Automatic Transmission
The 6-speed automatic transmission provides high-precision responses, silky-smooth shifts and outstanding durability.
Improved Noise, vibration, harshness (NVH) Bask in the quiet with improved vehicle chassis rigidity and sound absorbing materials that reduce road and engine noise.
Motor driven power-steering (MDPS) With improved Motor driven power-steering (MDPS), you get smooth and stable handling, better responses at different speeds. Front and rear suspension designs also enhance steering response, handling capability and stability.
Advanced high strength steel (AHSS) Use of Advanced high strength steel (AHSS) and Ultra High Strength steel (UHSS) to create body structure improved body endurance, Lighter body for better mileage and enhanced collision durability. Most of all, it means better passenger protection.
For further information and to schedule a test drive of the New 2019 Hyundai Creta, please contact:
MOTORWORLD
#20 Welfare Rd. Cole Bay
+1 (721) 544-5294
www.motorworldsxm.com
This email address is being protected from spambots. You need JavaScript enabled to view it.