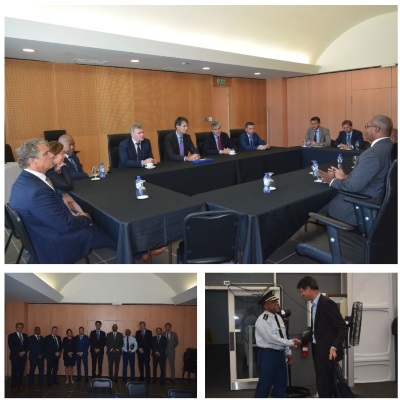 PHILIPSBURG:--- The Chief of Police of the Netherlands Mr. E. Akerboom and his delegation, consisting of Mr. Frank Paauw, Mr. R. van Dalen, Mr. S. Pennekamp and representative of Justice and Safety (V&J) along with the Police Chief of KPCN (BES-islands) Mr. J. Rosales and Chief of Police from Aruba (KPA) Mr. A. Hoo on Friday October 19th and Saturday October attended a working visit with the Police Force of Sint Maarten (KPSM) headed by Chief Commissioner Carl John and the management team.
This visit consisted of a presentation at the Police Head Quarter in Philipsburg by Carl John to the other police commissioners regarding the rebuilding of Sint Maarten as a country in the aftermath of hurricanes Irma and Maria and also the rebuilding of the police force. The presentation also included an explanation by John that thanks to the immediate response of all the countries within the Kingdom of the Netherlands, after the passing of the hurricanes, safety and security to the island could be restored and maintained. Immense gratitude was also expressed to the Netherlands represented by Mr. E. Akerboom who have provided Sint Maarten with the necessary assistance in the form of equipment, manpower, and training to help KPSM give the necessary service to the country.
"Twinning is winning" was the theme for this work visit. Local officers are twinned with and an officer from the Netherlands and it has shown to be very effective. The officers learn from each other, assist each other in many forms. Everything that they do is done together as a team. The request from Carl John was to have the Dutch contingency remain on the island until KPSM is strong enough to do it all alone.
Mr. Akerboom and his delegation also met with of the Dutch contingency that is presently assisting KPSM with manpower and with the rebuilding of the organization. After that meeting, the Police Chief met briefly with the Minister of Justice the Honorable Cornelius De Weever in the conference room of the Government administration building on Pond Island.
On Saturday, October 20th the entire delegation was given a tour of the ongoing construction of the new emergency dispatch, soon to be in operation, the Cruise facilities and the Simpson Bay police Station before leaving on their flight in the afternoon. This working visit was very successful and all commissioners look forward to their next official meeting.
KPSM Press Release.