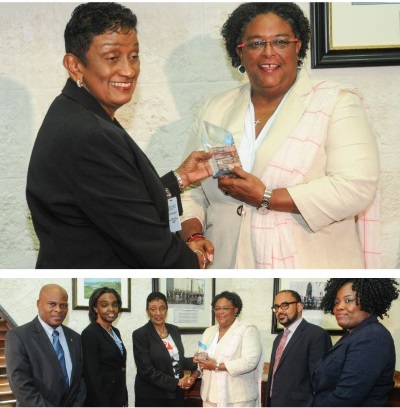 Bridgetown, Barbados:--- On Friday, October 19th, Barbados Prime Minister Honourable Mia Amor Mottley met with CCRIF CEO Mr. Isaac Anthony, Deputy Chairperson Mrs. Desirée Cherebin and Board member Mrs. Faye Hardy at a short ceremony to mark the payout by CCRIF to the Government of Barbados following the passage of Tropical Storm Kirk in October. The payout of US$5.8 million – or BDS$11.6 million – was made under the country's Excess Rainfall policy and was made within 14 days of the event.
In his remarks, CCRIF CEO, Isaac Anthony spoke to the fact that natural hazards continue to have an inordinate impact on the economies of the small island states of the Caribbean and the importance of risk transfer instruments in country disaster risk management (DRM) and climate resilience strategies. He indicated that the importance of risk financing and the parametric products that CCRIF provides has become even more evident especially after the past two years in which Hurricanes Matthew, Irma, and Maria affected so many of the countries in the region. However, he was quick to point out that, notwithstanding the value of these products, CCRIF insurance or risk transfer, in general, is not a panacea – but only part of the DRM equation. In the Caribbean, we know all too well that we must have allocations in our budget for disaster management and recovery supported by comprehensive disaster management policies and plans. We must – and can – reduce our vulnerabilities to natural hazards.
In receiving the payout, Prime Minister Mottley thanked CCRIF saying, "Every dollar in damage for a country that is in a tight fiscal situation is a dollar that we really would have preferred not to lose and therefore [we are pleased] to have this sum coming back to us to help us offset some of the damage as a result of Tropical Storm Kirk.... we are trying to take a proactive approach and this money will help us to continue in that manner."
Since its inception in 2007, CCRIF has made payouts totaling US$136.3 million to 13 member governments in the Caribbean and Central America – of which US$19.3 million has been paid to Barbados.