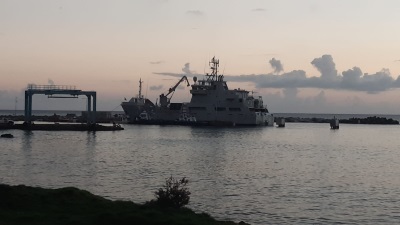 St. Eustatius:--- Reports reaching the media in Sint Maarten from reliable sources in Sint Eustatius on Sunday afternoon indicate that the Dutch Government is once again displaying a show of force ahead of the court case called against it by the coalition Government of Sint Eustatius.
As was the case ahead of the court case which Commissioners Derrick Simmons and Charles Woodley called against Island Governor Julian Woodley in June of 2017, the Dutch government seems to be nervously flexing its muscle by having the marine ship Pelikaan in the harbour, and deploying a large contingent of extra police and military personnel to patrol the island in rental vehicles.
The case against Island Governor Woodley, who was protected by the Dutch Government, was won by the Commissioners. This led to an embarrassing situation for former Minister Plasterk in the Dutch Parliament, who was forced to admit that the Commissioner's claim that Governor Woodley had violated the law was confirmed by the court.
Many observers familiar with the petition filed by the coalition government feel that the case that is called for upcoming Tuesday the 23rd of October will also go in the plaintiffs favor. This would deal an even bigger and more painful blow to the Dutch Government. State Secretary Knops is already under heavy pressure from both houses of Parliament in the Netherlands for the manner in which he has been dealing with the BES islands.
According to local observers, the show of force by the Dutch Government is surprising and unnecessary, since Statians, unlike the Dutch, have no history of violence, and always settle disputes with the Dutch Government peacefully and by legal means.
In that respect, they see the Dutch Government's latest flexing of its muscles as a way to intimidate the people of Sint Eustatius, just as it did in Indonesia when that colony exercised its right to self-determination back in 1947. It is to be hoped, however, that history will not repeat itself now that the Dutch Government is once again being legally challenged, and that it will respect its own legal system and the international rule of law, regardless of the outcome of the court case.