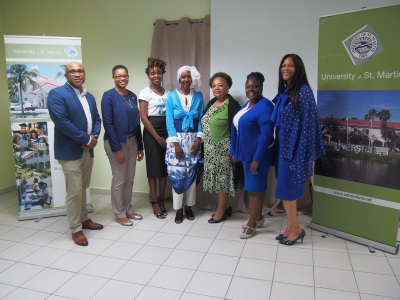 PHILIPSBURG:--- With a physical presence of 100 in the audience and over 450 people watching via Facebook Live, USM successfully held its second public seminar, entitled Towards a Healthier and More Sustainable St. Maarten, last Thursday evening. The dynamic and all-female panel hailing from government, the sciences and alternative medicine, engaged with the audience to explore ways in which the various sectors of society can raise awareness of UN Sustainable Goal #3 –Health and wellbeing. Respectively, and following an introduction by Secretary General of the Ministry of Public Health, Social Development and Labour Ms. Joy Arnell, speakers included: Ms. Maria Henry who serves as Section Head of General Health Care at Collective Prevention Services (CPS), Dr. Golden Jackson of the American Medical University of the Caribbean (AUC) and Highly Qualified Detox Specialist and liver cancer survivor Ms. Rose Rumnit.
"The large turnout was due to a number of significant factors we must consider", said USM President Dr. Antonio Carmona. "First, health concerns everyone and everyone knows that there is a lot to do to improve conditions on St. Maarten. Secondly, working closely with BAK and UNESCO, our Dean of Academics Dr. Rolinda Cater pulled together an excellent panel of women who from civil society, government and academia have influence over how we think about health. And finally, it was the presence of such notable foundations as Positive Vibration Breast Cancer Awareness, The Diabetes Foundation of St. Maarten, Kelaha Projects on Cervical Cancer and the St. Maarten Sickle Cell Foundation."
Proving again her commitment to sickle cell awareness and other health causes, Prime Minister Leona Marlin-Romeo joined the audience for the entire evening. Meanwhile, health activist Ms. Keoma La Hamer moderated the dialogue with lively intromissions of exhortations on lifestyle, education, the importance of youth and community.
During her presentation, Ms. Henry mentioned that USM could play an important role by providing the country with certified programmes for health educators and workers. Dr. Jackson outlined the steps that AUC faculty, staff and students undertook in order to contribute to sustainable health conditions. "Reduce, Recycle, Re-use, because our health is in great part shaped by our environment", said Jackson referring also to post-hurricane recovery efforts. Finally, Ms. Rumnit made the link between good health and "going back to our roots". Rummit praised the works of Mr. Denicio Wyatte and the Eco-St. Maarten Agricultural Research and Development Centre, who spoke at a USM seminar in September. "To have a healthy diet, we have to do agriculture", said Rumnit who expressed her willingness to offer workshops on natural medicine at USM.
CaniTV, a media project linking St. Maarten to West Africa on social issues, was responsible for the Facebook live streaming of the university event, which attracted hundreds of viewers. "All these factors and collective efforts contributed to making our second seminar a grand success", said Carmona Báez emphatically, "We hope to build on this experience and pull together the country's resources to ensure that USM continues serving the country."