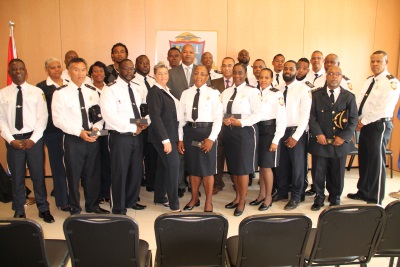 PHILIPSBURG:--- On Friday morning, Minister of Justice, Cornelius De Weever administered the oath to 25 employees of the Point Blanch Prison. The Oath Taking Ceremony was held at the government administration building from 9AM-11AM, where tokens of appreciation was also given to staff members.
Minister De Weever said:
On Wednesday, we celebrated St. Maarten's 8th anniversary of constitutional change which came with mixed feelings for different people and also mixed feelings for me personally. Knowing that this ceremony was planned gave me a sense of accomplishment but I was also disappointed with the fact that it was never done before.
Today is a milestone that you have been waiting for and I am proud to have you stand before me as we finalize this part of your civil service obligation. It also marks the continuation of the work that our support HR staff mentioned earlier especially Ms. Nathalie and Ms. Annan will be doing as we organize and put the proper structure in place for the entire ministry of justice. I cannot think of a better place to start than the prison, which is sometimes perceived as a forgotten place, except during election time and when something bad happens.
Many times people forget that there are those who work and inmates who live in Point Blanche, that also makeup part of our society. The constant threats from others do not make the work you do any easier, it can affect your health and quality of life- know that I am cognizant of this and will work on this area and other areas of improvement.
For many years, you were demotivated because in addition to the threats you did not receive the incremental increase on your salary-
I am sure you have noticed lately that there is more to take home. You deserve it and I urge you all to hold management accountable for your HR evaluations, training and promotions as we move forward together in turning the house of detention around.
It was my intention to join the week of activities in Suriname but due to this ceremony, commitments to get our prison in a better shape and to hire a suitable director I humbly ask you to forgive me and know that we will be planning for next year.
I would like to stress the importance of carrying out your daily tasks with integrity, be compassionate yet firm with the inmates, be vigilant to their health complaints and know that the work you do every day is a job that few can do – you are special.
While some of you may be close to retirement and some of you are just beginning – I would like to thank you all for the service that you have been providing. On behalf of the people of St. Maarten, the inmates and their families I say thank you as well.
Congratulations on your oath taking and make St. Maarten proud.