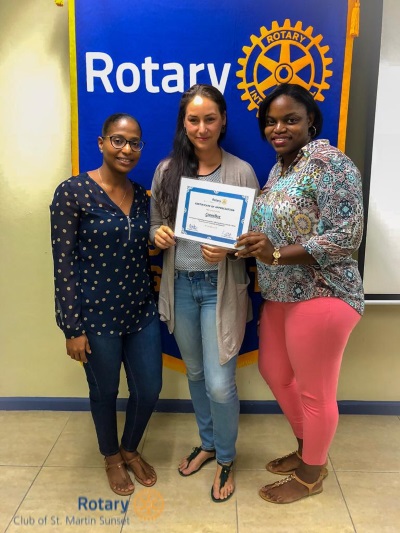 PHILIPSBURG:---In an effort to promote Economic and Community Development during the month of October, the Rotary Club of St. Martin Sunset invited guest speakers from GreenBox to their general meeting, held on Monday, October 8th. GreenBox representative, Jennifer Carty, gave a presentation on the goals and objectives of the organization and the ongoing 'Eco-School' recycling program, currently being run at the Catholic schools on the island. GreenBox in collaboration with Meadowlands BV has placed individual recycle bins in 80 classrooms across the 7 Catholic elementary and secondary schools on the island.
The project is geared towards creating awareness of the importance of recycling in our community, especially given the current situation of our landfill. The students and faculty are encouraged to practice good recycling habits, by sorting their recyclables in the classroom which are later transferred into miniature recycle parks on the school grounds. Meadowlands BV has offered its services free of charge for the weekly collection of the recyclable items from the various schools. As an incentive, the school that has recycled the most materials will be recognized.
The Rotary Club of St. Martin Sunset has pledged its support to the GreenBox initiative and has announced their plans on having a 'Recycling Drive' whereby members of the club and the general public are encouraged to gather and sort through their trash for recyclable items. The club will announce when and where these items can be dropped off and then later presented to the GreenBox and Meadowlands team. All recycled materials will be shipped and disposed of off-island by a company, specializing in recycled materials.
The Rotary Club of St. Martin Sunset would like to extend a warm felt thank you to the representatives of Green Box and would like to encourage the general public to play an active role in developing a more eco-friendly and sustainable nation.