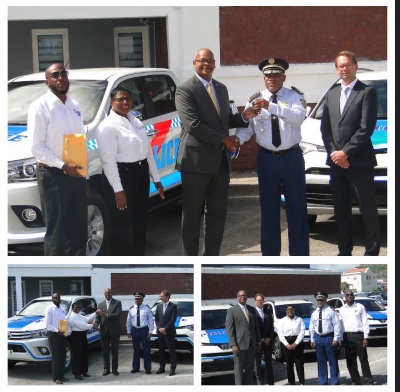 PHILIPSBURG:--- In the recovery process of country Sint Maarten KPSM have written and presented several "Quick Win" projects with the urgency to get KPSM up and running as soon as possible. The entire recovery process has been a very challenging one; however one of the main projects that were presented was the purchasing of new police vehicles. These vehicles are necessary to provide service and assistance to the community. This project has finally been accomplished. The vehicles have been purchased and this was possible through direct financing from the Netherlands.
On Wednesday, October 10th, 2018 during a short ceremony the Minister of Justice, the Honorable Cornelius De Weever received 10 keys for the newly purchased vehicles to be used by the KPSM. These vehicles will be distributed among the various departments that are in desperate need of them to carry out their duty. The keys for these vehicles were handed over by representatives of Real Motors namely Janice Balborda and Austin Helliger to Minister De Weever. Immediately after receiving the keys the minister handed them over to the Police Chief Carl John and congratulating him on the achievements. The Dutch representative on Sint Maarten mister Robert-Jan de Wilde was also present to personally witness and capture the moments of this symbolic event.
These vehicles will immediately be stripped and outfitted with all the necessary equipment and put into service as soon as possible. The police chief expressed his gratitude to all instances and persons who have been very instrumental in one way or the other in making this project a reality and look forward to having other projects such as new uniforms for police personnel, the installation of the new Emergency Central Dispatch and the repairing of the police stations dealt with as quickly as possible.
KPSM Press Release.