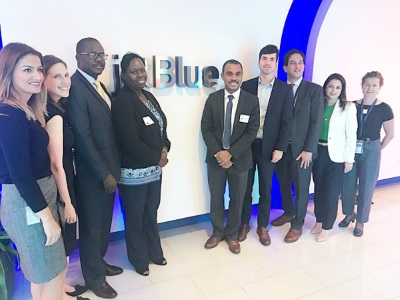 PHILIPSBURG:--- The United St Maarten Party (USP) was very proud to learn that the efforts of former Minister of TEATT Doncher has paid off in the first ever weekday-scheduled service for the island to Fort Lauderdale. This service was recently announced by Jet Blue, and is expected to drastically improve the airlift and pricing of flights to and from the South Florida Area, St. Maarten's most popular connecting area to the US.
"USP as a party has always taken its work with the TEATT Ministry very seriously, and we know that everyday fruits of our labor help the people of St. Maarten; it is what we as a party have always been committed to" stated MP Frans Richardson, Leader of the United St. Maarten Party, " Today we have just one example."
Soon after being appointed Minister of TEATT by the USP, Doncher, together with MP Brison who was director of tourism at the time, set out to identify the key route development goals for the Ministry. "Fort Lauderdale was seen as a huge priority for many reasons: It is the fastest growing US international airport for several consecutive years, it would create a new alternative to the increasingly saturated Miami route, and would create competition on that route to reduce prices for travelers," explained Brison.
"Being that airlines typically plan schedules 9 to 16 months in advance, it takes a long time before route development negotiations pan out into actual flights. In this case, we are happy to see that our efforts that started over a year ago have resulted in such an important route opening for St. Maarten," stated MP Brison.
In June of 2017, the Minister had received the commitment of Jet Blue to launch the service. Even after hurricane Irma, in November of 2017, the Minister and her team had met with Jet Blue once again. The airline, voted the best airline in North American by Trip Advisor for 2017, at the time commended the hard work the Ministry of TEATT was doing to help in the island's recovery and committed to not only being among the first airlines to relaunch flights to St. Maarten but stayed committed to the Fort Lauderdale Route.
Fort Lauderdale represents about 15% of JetBlue's capacity, it's the largest airline at that airport. The airline recently said that even though competition may be rising, JetBlue sees South Florida as a "large underserved market" with more expansion capabilities. JetBlue plans to continue to "grow thoughtfully" in the market," the airline said.
JetBlue also plans to roll out its Mint service (similar to first class) at Fort Lauderdale later this year. In other markets, the introduction of Mint service has led to improved profitability. Mint service was also discussed with the Minister in New York.
The Minister was joined in New York by members of her Cabinet, Head of the St. Maarten Tourist Bureau Rolando Brison and St. Maarten's marketing firm for the US, MMGY Global/Spring O'Brien, whose representatives attended the meeting to familiarize themselves with the initiatives/wishes of St. Maarten and JetBlue.
USP fully expects that soon, other route development efforts will pan out, such as the other Fort Lauderdale route negotiated with Southwest, as well as first time routes including the Moscow-SXM route of S7 Airlines and the Belgium-SXM route of TUI, among many others.