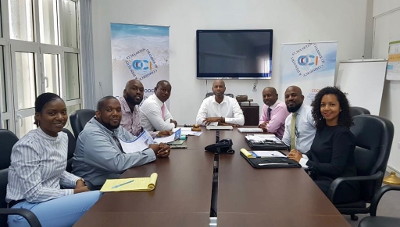 PHILIPSBURG:--- At the request of the St. Maarten Chamber of Commerce & Industry (COCI), a meeting took place earlier this week with Nicole Echobardo and Quincy Lont, who presented the brand-new Tax Application of Meijburg & Co Caribbean to the board of COCI.
COCI was represented by Exec Dir Anastacio Baker, Board President Stanley Lint, Vice President Benjamin Ortega, Board members Edsel Gumbs, Curtis Thomas, and IT officer Venecia Herbert.
The Tax App which is in the Dutch language, allows business owners to quickly access various tax laws via their smartphone.
This is one-way companies can easily access information in regard to Tax laws and protect against Tax related challenges such as assessments and fines. But also, legal steps to increase their bottom line said President Lint.
COCI Executive Director Anastacio Baker said that COCI will have further discussions with Meijburg & Co Caribbean with respect to promoting the App.
"A translation of the content should be seriously explored and also factored in by other entities when it comes to the Sint Maarten predominantly English-speaking community. Information provided in English would be more beneficial and useful for the business community who always request information in English as well as the community overall. The App is beneficial where it also provides information about international tax treaties.
"The App provides an all-inclusive tax framework and is in line with transparency. We at COCI will provide an FAQ about taxes on the COCI Website with a link to the App," Baker said on Thursday.
During the meeting, a number of recent international tax developments which may impact the business industry of Sint Maarten in the near future were also discussed.
One of the key developments that would be interesting to the business community is the Base Erosion and Profit Shifting (BEPS) action plan, which is an initiative of the Organization for Economic Co-operation and Development (OECD), and approved by the G20.
The COCI Board and representatives from Meijburg also exchanged their concerns and aspirations regarding practical ways to keep the Sint Maarten business community abreast of eventual changes to the country's tax legislation.
Meijburg and the COCI Board agreed to monitor the emerging trends related to international taxation in order to facilitate a proactive approach to this matter where it concerns Sint Maarten.
Nicole Echobardo is Tax Assistant at Meijburg & Co Caribbean and Quincy Lont is a Senior Tax Manager and the Practice Leader of the Sint Maarten office. Meijburg & Co Caribbean is a KPMG member firm with offices in Aruba, Caribbean Netherlands, Curaçao, Rotterdam (Dutch Caribbean and Suriname desk) and Sint Maarten.