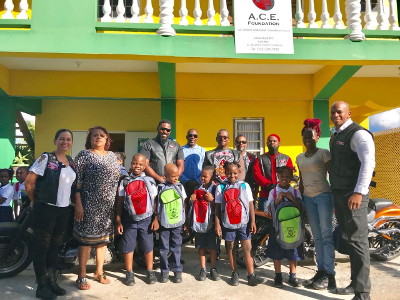 PHILIPSBURG:--- TTribal Hogs Riding Club recently presented the students of All Children's Education ( A.C.E.) Foundation School with much-needed school supplies.
Tribal Hogs members not only have a passion for riding but also for the community, for family and strength/unity within both. With the island and many families still experiencing the economic effects of hurricanes Irma and Maria, Tribal Hogs sponsored sixty school bags and filled pencil cases to ensure the students were well equipped for the school year.
A.C.E Foundation School which has been in operation for fifteen years, is home to many students, who for various reasons, are unable to attend public school. Principle Clair Elshot and her dedicated teachers believe in education for all, despite the challenges that some of her students face, such as Autism, speech impairments and learning difficulties among others.
Maria Collazos, Secretary of Tribal Hogs also took the opportunity to share the road and riding safety tips with the students.