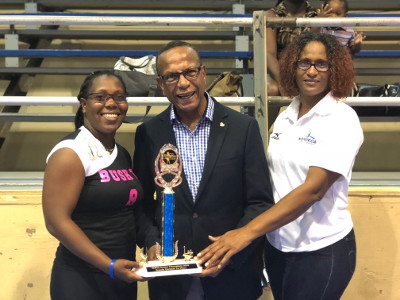 PHILIPSBURG:--- The 2018 season for the Sint Maarten Volleyball Association (SIMVA) games were declared open by the Minister of Education Culture Youth and Sports Wycliffe Smith on Saturday evening at the Great Bay Sports Auditorium.
The short ceremony began on time with 8 of the 9 participating teams present. Vashti Williams of Nitro rendered the Sint Maarten song. Minister Smith prayed for blessings on all stakeholders and for a successful season. Due to the 2017 season being canceled by Hurricane Irma, the awards for the winners of the 2016 season were then presented.
For the Senior Female competition, the champion team was Bush T. Second place went to GO FOR IT, while Nitro captured third place. For the Senior Males, first place was retained by Reptiles for the 7th consecutive win. Second place went to Guess What?, while Cobraced came in third place.
In his remarks, the honorable Minister Smith commended the teams and the association for their demonstrated resilience and strength. He said, "Whether you are from the north side or the south side, Soualuiga, we have OVERCOME TOGETHER!... Last year, the Eastern Caribbean Volleyball Association games continued without us but now, WE ARE BACK Sint Maarten Strong!"
With the promise of interesting matches to come, Smith stated that all the players were already winners on "Team Overcomers" and declared the volleyball season open. The first match of the season was played between the Female teams Bush T and Fearless Squad.
At the end of the local tournament, the top players for the Females and the Males will be selected to play on the National Volleyball teams. SIMVA invites the general public to show their support for the teams and the sport during the tournament.