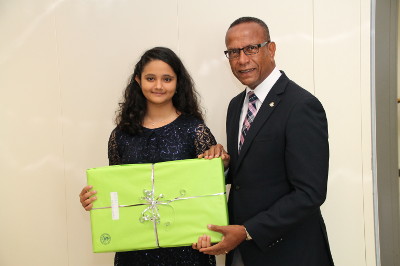 PHILIPSBURG:--- Leader of the Sint Maarten Christian Party (SMCP), the Honourable Wycliffe Smith on Tuesday made his second donation from his pledged 15 percent salary reduction from his tenure in office as a Member of Parliament. The funds were used to purchase gifts for the top performing students from the 2018 Foundation Based Education (FBE) Exit Examinations. Eight awards were presented to six individual students on Tuesday afternoon in the annual celebration hosted by the Ministry of Education, Culture, Youth, and Sports.
Due to the cost-cutting measures implemented by the Government's administration, there were insufficient funds for the event to allow for appropriate gifts for these deserving students. Chief of Staff for the Minister's Cabinet and Master of Ceremony for the event, Peter J Gittens expressed his heartfelt gratitude to the minister for making these funds available and even going the extra mile to personally purchase an additional token for the overall top performer.
A total of 3,000 guilders was spent for the gifts which were delivered to the students who earned the overall top three scores, including a double award for the third position, as well as the islandwide top scorers per examination subject. Suhani Nathumal of the St. Dominic Primary School garnered three prizes for achieving the highest grade in Dutch and General Knowledge as well as the overall top performer of the 509 examinees.
Minister Smith previously made a donation to VOICES Foundation with one month's pledged deduction. As part of their election campaign manifesto, all candidates on the SMCP slate signed an agreement to make a personal deduction of 15 percent of their salaries as Members of Parliament pending an approved motion by Parliament for a reduction across the board.