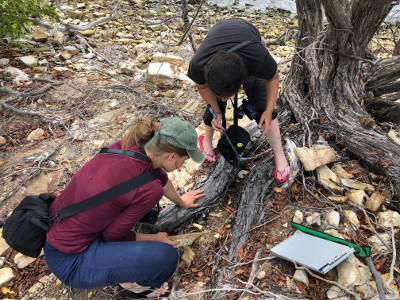 PHILIPSBURG:--- Hurricanes Irma and Maria have done considerable damage to buildings and infrastructure, but also St. Maarten's nature has suffered a dramatic blow, researchers Wendy Jesse and Rotem Zilber recently discovered.
Jesse and Zilber, associated with the Vrije Universiteit in Amsterdam and collaborating with the Sint Maarten Nature Foundation, visited St. Martin in August 2018 to measure the effects of the 2017 Hurricane Season on the natural environments of St. Martin and the most prevalent lizard species that inhabit them. The researchers also focused on lizards, which are a species that take up a very important position in the local food web due to their high abundance and the fact that they eat many insects and serve as a primary food source for many birds. Any change in lizard abundance will therefore likely be a sign of overall ecological imbalance. Jesse already collected biological data on St. Martin In 2015 and 2016. This expedition aimed to collect data to compare the current situation to the one previous to Irma.
Forested areas experienced reductions of canopy cover as much as 90% meaning that the forest floor is subjected to considerably higher temperatures then before. Also vegetation height was dramatically reduced. Most trees that were uprooted were relatively old, so full recovery of the forest will likely take several decades. The changed vegetation structure of the forest has significant consequences for the lizard species that inhabit them. Previously, forests were primarily inhabited by species that are sensitive to high temperatures, and the shade that forest cover provided made them a sanctuary for a lizard species that is unique to St Maarten: Anolis pogus or the Anguilla Bank bush anole. Although the name suggest otherwise, St. Maarten is the only island the species is currently found and the International Union for the Conservation of Nature assesses the status of the species as vulnerable to extinction. The environmental damage caused by Irma has significantly reduced the abundance of A. pogus in forests and climate change and future hurricanes might push this species to the brink of extinction, like has happened on other islands.
Jesse and Zilber also observed other signs of ecological imbalance. Vine-like plants with burning hairs and painful spines have optimally profited from the increased sunshine reaching the forest floor, entangling other plants and trees in their path. The researchers also encountered remarkably high densities of (fire) ants, which could be a direct effect of the decrease of insect-eating lizards in these areas. They plan to come back periodically to monitor the situation and recovery of the environment and the status of the many unique species on St. Martin.