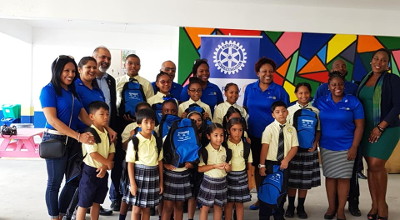 PHILIPSBURG:--- For the past seven years the Rotary Club St. Martin Sunrise partnered with Motorworld on a project where over 550 Elementary school students are presented with school bags stuffed with school supplies. Every year, two Elementary schools are selected randomly to receive the school supplies, this year St. Joseph School and the Seventh Day Adventist School were selected to receive the donation.
The teachers were also presented with a token of appreciation for the hard work they put into educating their students.
President of Rotary Club St. Martin Sunrise, Valda Hazel stated that she is proud that the club and Motorworld managed to execute this project yet another year. She is positive that the school bags will be an added value to the students and parents alike. Even though the majority of students already have a school bag, this additional bag can be used for their extra-curricular activities or hold as reserve in case their other bag gets destroyed.
Motorworld Marketing Management Consultant, Jacqueline Louis shared that Motorworld takes pride in supporting the community, particularly the youth in these ventures, which help to contribute to their educational growth and development, and encouraged the students to "stay in school, don't be a fool!"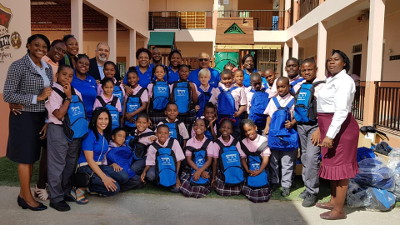 Project Coordinator, Marcellia Henry thanked Motorworld and Rotary Sunrise for their commitment to this project and for their dedication and willingness to continue to promote and support education in our community. As an educator it is my distinct honor to have coordinated this project over the past seven years.
Students of the St. Joseph School presented the Rotary Club and Motorworld with a large Thank You Card made by the students. The students of the Seventh Day Adventist School sang a song expressing their gratitude for the donation.
The Rotary Club St. Martin Sunrise is currently working on more projects that supports the community in particular the Youth and Education.
The Rotary Club St. Martin Sunrise meets every Tuesday at The Gingerbread Café located in the Belair Beach Hotel from 7:00 – 8:00 AM.